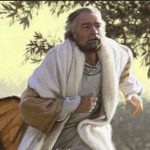 A reading from the Book of Joshua
(Chapter 5:9a, 10-12)

Up until this point in the story of the Israelites' journey to freedom from Egypt, they have been fed with manna, the mysterious substance God provided in the desert. Now, everything has changed. "On the day after the Passover, they ate the produce of the land. On that same day after the Passover, on which they ate the produce of the land, the manna ceased. No longer was there manna for the Israelites, who that year ate of the yield of the land of Canaan."

This whole story of the Passover from Egypt, the wandering for so long in the desert, all of this is a gift from God. But now, the people have a new gift that challenges them to become active participants. Now, they are out of the desert and in a land that they can farm to grow their own food. The gift is still there but in a different form. It is time for them to grow into a people by doing their part to become self-reliant.

You and I have been given great gifts, starting with the gift of life itself and continuing throughout our lives. We too must be active participants, doing our part to become self-reliant. Just as the Israelites were gifted by God throughout their existence and needed to actively accept and embrace their gifts, so too must we be active recipients, accepting the continuous gifts that God showers upon us.

Do you give thanks for all the gifts that God gives to you, or do you focus on the negative, all the things you do not have, all the challenges that you face every day? Just as Israel had a partnership with God and had an active role in using their gifts, so too must we be thankful for our gifts and fulfill our role in partnership with God to become fully ourselves.

Responsorial Psalm
(Psalm 34:2-3, 4-5, 6-7)

"Taste and see the goodness of the Lord." Do you ever spend time savoring all the goodness of the Lord, or do you all too often taste the bitterness of what you do not have and the sorrows you face?

A reading from the Letter of Saint Paul to the Corinthians
(Chapter 5:1-2, 5-8)
"Brothers and sisters: whoever is in Christ is a new creation: the old things have passed away, behold, new things have come. And all this is from God." Wow! You and I are a "new creation," and every day "new things have come."

Do you experience your life in this dynamic way or is it the "same old, same old" or worse, a series of traps or boxes that keep you from being who you really are? If instead you try to see the opportunities for "new creation" appearing in your life, your life can change. The "old things" that Paul talks about which may drag you down can be transformed by the new life that is being offered to you now, if only you can accept the gifts being offered.

A reading from the holy Gospel according to Luke
(Chapter 15:1-3, 11-32)

This is one of the most powerful and hopeful of all the parables of Jesus. It is commonly called the story of the "prodigal son," but it is more appropriately called the "parable of the father's love." You and I have heard the story dozens of times but try to hear it from the perspective of the father.

"A man had two sons, and the younger said to his father, Father give me the share of my estate that should come to me. After a few days, the younger son collected all his belongings and set off for a distant country where he squandered his inheritance on a life of dissipation." The son spends everything, and not wisely, and the country he has traveled to falls into a severe famine. He is starving and hires himself out to take care of pigs, the worst kind of job for a Jewish person.

"Coming to his senses he thought, 'How many of my father's workers have more than enough food to eat, but here I am dying of hunger? I shall get up and go to my father and I shall say to him, "Father, I have sinned against heaven and you. I no longer deserve to be called your son; treat me as you would treat one of your hired workers. . . ." While he was still a long way off, his father caught sight of him, and was filled with compassion. He ran to his son, embraced him and kissed him. . . . (and) ordered his servants, 'Quickly bring the finest robe and put it on him; put a ring on his finger and sandals on his feet. Take the fattest calf and slaughter it. Then let us celebrate with a feast, because this son of mine was dead and has come to life again, he was lost and has been found.'"

Remember that Jesus is telling his audience a story that creates an image of God that may not be familiar to them. On one level, this is a story of the younger son's repentance, but on a deeper level it is a story about who an all-forgiving, all-loving God—represented by the father. Jesus wants to reorient his audience, whose idea of God has been focused on divine punishment. With this story, Jesus tells his audience that the love of God is indeed a "crazy love" beyond their imaginings. Everything else is secondary, including the sins of the younger son and the anger of his brother. Jesus wants people to broaden and deepen their understanding of who their God really is.

And for us today, can we see the all-powerful "crazy love" of God? Or do we judge God's love and forgiveness according to our own limited human standards. Do you believe that God will forgive you anything if you truly repent? That is the God of Jesus, the God who is our Father.

Excerpts from the English translation of the Lectionary for Mass © 1969, 1981, 1997, International Commission on English in the Liturgy Corporation (ICEL). All rights reserved.

Bill Ayres was a founder, with the late singer Harry Chapin, of WhyHunger. He has been a radio and TV broadcaster for 40 years and has two weekly Sunday-night shows on WPLJ, 95.5 FM in New York. He is a member of Our Lady Queen of Martyrs Church in Centerport, New York.