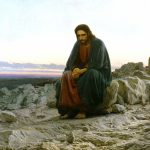 A reading from the Book of Deuteronomy
(Chapter 26:4-10)

Moses gives the people a short summary of their history—the call of Abraham, their suffering in Egypt, and finally their deliverance by God, as Moses puts it, "with his strong hand and outstretched arm with terrifying power, with signs and wonders; and bringing us into this country, he gave us this land flowing with milk and honey. Therefore, I have now brought you the first fruits of the products of the soil which you O Lord have given to us."

This is a powerful creed that the Jewish people have recited throughout their history, and it is part of who we are as Christians as well. In our Eucharist, we join with Jesus, who is the first fruits of God's new covenant with his people.

Responsorial Psalm
(Psalm 91:1-2, 10-11, 12-13, 14-15)

"Be with me O Lord when I am in trouble." Later in the Psalm, God says, "I will be with him in distress." But then God promises much more: "I will deliver him and glorify him." That is quite a promise, and it is right there for us now, in our lives NOW.

Are you truly in awe of God, enthralled with his goodness, in wonder of his great creation? Or are you still caught up in the words you may have heard in your childhood: "You better be good, or God will punish you." How you answer that question may either bring you a powerful sense of God's peace and protection or encourage that little voice that sometimes in your head that says, "You're not good enough."

A reading from the Letter of Saint Paul to the Romans
(Chapter 10:8-13)

Paul tells the Romans, "If you confess with your mouth that Jesus is Lord and believe in your heart that God raised him from the dead, you will be saved."

Some of our Christian brethren have believed for centuries that this is all they need, faith, to be saved. We Catholics believe that it is faith and good works that save us. Jesus gives us the gift of faith, but as with all gifts, we need to put it into practice for it to be fully accepted. We are in partnership with Jesus throughout our lives to truly live this gift.

When many of us were children, we were told that we needed to do certain things or avoid other things to "get to heaven." That got things backwards. Salvation starts with a gift from God. We can't earn it. It all starts with God, with a gift from God that we then need to accept through our words and actions.

A reading from the holy Gospel according to Luke
(Chapter 4:1-13)

Here we have the famous three temptations of Jesus. It is no coincidence that they take place in a desert. Deserts have often been seen in history as dark places where danger lurks. Our spiritual ancestors, the Jewish people, were tempted several times in the desert, but God was on their side, and they ultimately made the right decisions. So, just as the people were tempted by real hunger—not the kind you and I experience but life-threatening hunger—so, too, is Jesus tempted by this most primal threat: "If you are the Son of God, command this stone to become bread." But Jesus is on a whole other level: "It is written, one does not live on bread alone."

The next temptation has to do with power: "Then he took him up and showed him all the kingdoms of the world in a single instant. The devil said to him, 'I shall give to you all this power and glory. ... All this will be yours if you worship me.' Jesus said to him in reply, "It is written, You shall worship the Lord, your God, and him alone shall you serve.'"

You might think that the devil had just pulled out his best trick, his most powerful promise. But no, there was one more—the temptation about life itself and trust in God in the most sacred of all places, the parapet of the temple in Jerusalem. "If you are the Son of God, throw yourself down from here, for it is written: He will command his angels concerning you, to guard you, and with their hands they will support you lest you dash your foot against a stone. . . . Jesus said to him in reply, It also says, you shall not put the Lord, your God to the test."

That was it. The devil had played his strongest card and lost. We might think Satan was defeated, but the last line says "he departed from him for a time." As we know, the temptations of Jesus followed him to the cross.

Sometimes, when we have overcome a difficult temptation, we feel good about it, as well we should. However, we need to be aware that there will be more and that Jesus is there to help us navigate our own dangerous deserts.

Excerpts from the English translation of the Lectionary for Mass © 1969, 1981, 1997, International Commission on English in the Liturgy Corporation (ICEL). All rights reserved.

Bill Ayres was a founder, with the late singer Harry Chapin, of WhyHunger. He has been a radio and TV broadcaster for 40 years and has two weekly Sunday-night shows on WPLJ, 95.5 FM in New York. He is a member of Our Lady Queen of Martyrs Church in Centerport, New York.