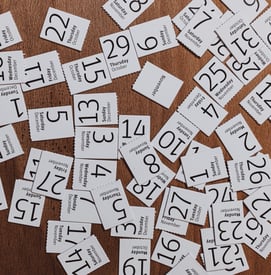 Recently my friends were telling me about going to their granddaughters' dance recitals. I also heard about a couple of graduations they were attending. I was happy for them and have fond memories myself of recitals and graduations of my own grandchildren. I also have fun memories of reading stories to my grandkids when they were little and laughing over craft projects and outdoor sidewalk games. Somehow, a measure of sadness crept in because those fun days are gone, all but the memories. How I would love to sit under what we called the "story blanket" and read, for the hundredth time, the same silly stories my grandchildren enjoyed.
My three grandkids are young adults now. I don't see them as often as I once did. The youngest grandchild, Josh, is finishing his second year of college. However, he was with me last week, and we got into a discussion about current news-making events. I heard myself talking to Josh as an adult, and I knew he was comprehending and formulating his responses. The same fellow that drew wonderful drawings as he sat at my kitchen table was now drawing mature discussion conclusions at that same table. He is growing up to be a thoughtful and wise young man.
Nostalgia can be a kind of growing pain, and yet, it is a pain that can be managed. It certainly can be pleasant to review various life events. However, it is important to immerse oneself in the present and be open to the growth that is happening. In our spiritual life, we can approach growth confidently thanks to the inspirations from the Holy Spirit, the nourishment from Jesus, our Living Bread, and the perfect will of our Loving Father, God.
As we spiritually strive to grow, we can turn to sacred scripture to find food for prayer and reassurance. Take and pray with Psalm 103:2-5:
Bless the Lord, O my soul, and do not forget all his benefits—who forgives all your iniquity, who heals all your diseases, who redeems your life from the Pit, who crowns you with steadfast love and mercy, who satisfies you with good as long as you live so that your youth is renewed like the eagle's.
We can review our own spiritual progress when we read St. Paul's First Letter to the Corinthians 13:11:
When I was a child, I spoke like a child, I thought like a child, I reasoned like a child; when I became an adult, I put an end to childish ways.
The journey isn't always easy or automatic. We experience temptations and delays. St. Paul reminds us in his Letter to the Ephesians 4:22-24:
You were taught to put away your former way of life, your old self, corrupt and deluded by its lusts, and to be renewed in the spirit of your minds, and to clothe yourselves with the new self, created according to the likeness of God in true righteousness and holiness.
So we pray ourselves forward, one hopeful step at a time. We are mindful of the blessings in our past that have brought us this far. An excerpt from Psalm 51 (verses 10 and 12) is easy to memorize and even quietly chant to yourself, as I do sometimes:
Create in me a clean heart, O God,
and put a new and right Spirit within me.
Restore to me the joy of your salvation,
and sustain in me a willing spirit.
†††
Photo by Claudio Schwarz (detail) on Unsplash
The Scripture passages are from the New Revised Standard Version Bible: Catholic Edition, copyright © 1989, 1993 the Division of Christian Education of the National Council of the Churches of Christ in the United States of America. Used by permission. All rights reserved.
Sharon Krause is a RENEW volunteer whose writing has appeared in several resources for small-group faith sharing. She is a wife, mother, and grandmother residing in Manchester, Connecticut. Over the years, she has served in many parish ministries.