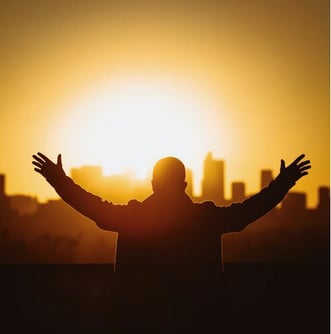 We hear the Christmas song, "Angels We Have Heard on High," this time of year. It is one of my favorite songs. The chorus starts with the word, gloria.
And there is that little prayer we say when we say the rosary, and other times:
Glory be to the Father, and to the Son, and to the Holy Spirit, as it was in the beginning, is now, and ever shall be, world without end. Amen.
And the Gloria prayer at Mass starts, "Glory to God in the highest." With all this glory going on, I got thinking about just how can we give God glory? I looked up the word, and saw that glory means praise or giving great honor.
God does not need my praise or honor, but I need to praise and honor him; I need to acknowledge his greatness and majesty. How can I do that?
I suggest that giving God the glory that is due him involves singleness of purpose. I praise him with all my attention to what I am saying or singing. I think about God's joy of transcendence: He does not have to make himself available to me, but he does. He wants a relationship with me! I am truly in awe of His generosity!
I can give glory to God by using the talents he has given me. If I have a great singing voice, I can use that gift wholeheartedly; and if someone compliments me for my super singing, I can give God the credit! Even as I write my blog posts, I give God glory, because I try to use my gift of words to draw others to give him glory.
We are made in God's image. He is generous, and we need to give him glory by imitating that generosity, sharing what we know and have experienced about God's love, infecting others with his love and keeping it contagious, giving him glory by giving our loved ones to him, trusting his will and mercy.
Search out the many reasons to praise God and give him glory. Go to the psalms, such as Psalms 19, 24, 29, and 104. Creation, by its very existence, gives glory to God. Meditate on that for a little while. Go to the Old Testament, to Deuteronomy 5:24, and the giving of the Ten Commandments to Moses:
"Look, the Lord our God has shown us his glory and greatness, and we have heard his voice out of the fire. Today we have seen that God may speak to someone and the person may still live."
We can check out more references to God's glory through topic searches on the internet. There are many, but I will end my post today with a very appropriate timely quote from John 1:14:
And the Word became flesh and lived among us, and we have seen his glory, the glory as of a father's only son, full of grace and truth.
With a bright Christmas smile I proclaim: Glory to the Savior who is Christ the Lord!
†††
Photo by Nathan Dumlao on Unsplash
Scripture passages are from the New Revised Standard Version Bible: Catholic Edition, copyright © 1989, 1993 the Division of Christian Education of the National Council of the Churches of Christ in the United States of America. Used by permission. All rights reserved.
Sharon Krause is a RENEW volunteer whose writing has appeared in several resources for small-group faith sharing. She is a wife, mother, and grandmother residing in Manchester, Connecticut. Over the years, she has served in many parish ministries.