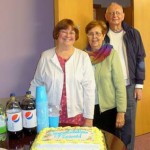 We at RENEW recently celebrated Dominican Sister Marenid Fabre's Jubilee in honor of her 25 years of religious life. Sister Marenid worked as a missionary in the Caribbean islands and Colombia before her calling brought her to RENEW. Now she trains lay leaders as they foster small communities of faith within parishes using ¿Por qué ser católico?
During the prayer service, Sister Marenid's father, Don Victor Fabre, was invited to share what these 25 years meant to him. When his children were young, he said, he prayed to have a religious vocation in his family. Specifically, he prayed to God for one of his four sons to become a priest.
Years later, when Marenid finished her bachelor's degree, she said to her father, "I have now accomplished your goal. It is time to follow my heart and become a Dominican sister."
Don Victor was puzzled. When he asked God for a religious vocation in his family, it had never crossed his mind that the call would come to his only daughter. God had his own plans.
Victor's prayers were heard. God doesn't give us what we ask for, but gives us what we need. God always works in us and through us.
Victor was granted the gift of having a religious vocation in his family. And now, his daughter has spent 25 years journeying through the paths and hearts that only those elected and consecrated to the Lord can walk. She finds strength in prayer, sacraments, community, and service to others. She has preached with her works and her words through what she has learned from her Dominican Order and from what she has experienced from the reality of Jesus's life in her life.
Victor and his family are blessed to have her. We at RENEW are blessed too.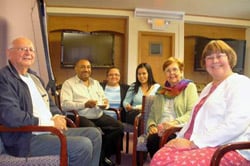 La semana pasada celebramos aquí en la oficina de RENEW International los 25 años de vida religiosa de la Hna. Marenid Fabre. Nuestra querida hermana ha trabajado como misionera en las Islas del Caribe y Colombia antes de llegar a RENEW. Una vez con nosotros, ella se ha dedicado al entrenamiento de los líderes Hispanos en algunas diócesis de los Estados Unidos por medio del proceso de ¿Por qué ser católico?
Para esta celebración la Hna. Marenid invitó a sus papás y durante nuestro compartir de la fe, el papá de la hermana, Don Víctor Fabre compartió con nosotros como él siempre oró por tener en uno de sus hijos una vocación religiosa. En realidad lo que él le pedía a Dios era que uno de sus cuatro hijos fuera sacerdote, sin embargo, Dios tenía otros planes con esas oraciones y con los deseos de su papá.
Años después, el día en que la Hermana Marenid termino su bachillerato en educación va a casas y le entrega el título a su papá diciendole: aquí esta una de tus metas, te la entrego, ahora me voy y me dirijo hacia lo que estoy llamada a ser, una religiosa dominica.
Don Víctor desconcertado le decía a Dios: "cuando yo te pedía el tener una vocación en nuestra familia me refería a uno de mis hijos, no que te llevaras a mi única hija para ser religiosa…"
De una u otra manera, las oraciones del papá de la Hna. Marenid fueron escuchadas. Dios siempre trabaja en nosotros y por nosotros. Dios no le dio a Don Víctor el sacerdote que tanto deseaba, pero si le concedió el regalo de tener una hija que a lo largo de estos 25 años de vida religiosa, ha andado por lugares y corazones que solo los elegidos y consagrados al Señor pueden andar. Predicando con sus obras y sus palabras no solo lo que ella ha aprendido de la regla de Santo Domingo de Guzmán, pero sobre todo lo que ha aprendido, llorado, reflexionado, experimentado desde la misma vida de Jesús en su vida diaria, del Jesús que nos fortalece y que encontramos en la oración, en los sacramentos, en la comunidad y en el servicio a los demás.
Alma is one of RENEW's Spanish presenters and works with lay leaders to successfully implement programs.
Cultural Mosaic appears monthly in both English and Spanish.