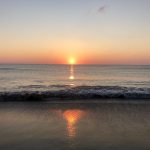 Since I was little, my favorite week of the year has been the annual beach vacation I have with my immediate and extended family in July. This year we were blessed in that everyone was healthy and able to come under the circumstances. I have always felt closest to God through nature and through my relationships, so what better way to deepen my spirituality than at the beach with my loved ones? Between long beach days and outdoor gatherings, I took time to pause and reflect on what I call "God moments," when I feel his presence in my everyday life.

Perhaps the most memorable "God moment" was the family Wiffle ball game on our last day. I am lucky to belong to a tight-knit family that makes every person feel special. I loved that everyone had a role: my father and uncle coached, my sister patiently pitched, my mother and cousin were outfielders, and both players and spectators cheered for every hit. I recall looking around and thinking to myself how much this moment meant to me. God placed a wonderful group of people in my life that remind me of his unconditional love. I realized that I will cherish this memory forever, and I hope to carry on the annual tradition when I have my own children.

Whenever I caught the sunrise on the beach or watched the sunset from the deck, I was in awe of the fresh start God provides every morning and the heavenly sky reminded me of my grandparents watching over us. I also enjoyed living vicariously through my younger cousins while we jumped over ocean waves and built sandcastles. I admire their excitement for life's simple joys whether it be crab hunting on the beach and riding bikes around the block. We are all children of God who have so much to laugh and smile about despite an uncertain world. I felt that same happiness when we spotted dolphins, and I spent hours on inner tubes giggling with my cousins.

I may not see my extended family often or live at the beach, so the bonds formed make our time spent together even more meaningful. As I settle into reality, I encourage myself to find beauty in creation. I know that some days may seem easier than others, but the peace and comfort of God's presence is all around if I look closely enough.

Samantha Howath, a summer intern at RENEW International, is a rising junior at Loyola University Maryland where she studies Communications and Marketing. She is a lector for Campus Ministry. Samantha is also a marketer for Loyola's chapter of Spoon University, a food blog, and a Greyhound Ambassador for Admissions.