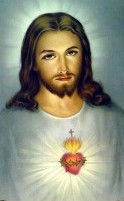 There are common phrases such as "Have a heart," "Is your heart in it?", "The heart of the matter is…" When I hear these, I know we are talking "essentials.'' As we celebrate the Feast of the Sacred Heart, I consider the Heart of Jesus. I think of qualities and characteristics such as love, peace, respect, dignity, mercy, compassion, forgiveness. This feast, for me, is also an invitation to rededicate myself to the Sacred Heart of Jesus and reflect on how these essential qualities are lived through my heart and in my everyday life.
I consider myself truly blessed to know Jesus and want to be like him. It's a gift that I treasure and enjoy sharing—knowing this world would be an even better place if everyone did. Today is a good day to delight in and share the joy and blessing of our faith in him. He has faith in us!
Anne Scanlan is a member of the RENEW staff, serves on the Pastoral Services Team, and is an exceptional liturgist.