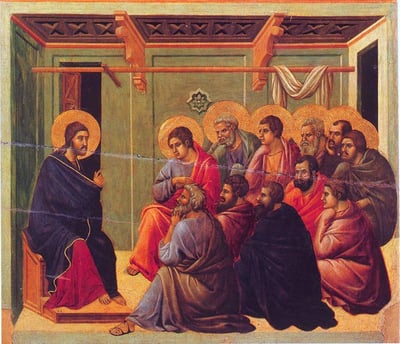 The word disciple is not tossed around much in daily conversation. I consider myself a disciple of Jesus Christ, but I don't think much about what that term indicates. Let's go a little deeper.
According to my grandson, who studies Latin in college, disciple is derived from the Latin disco which has to do with learning, becoming acquainted with, and instruction. It is easy to conclude that disciples are people who have learned about or become acquainted with someone or something. Thankfully, I am aware of the good news of salvation, of the wondrous saving, loving power of Jesus Christ. I have learned about God, our Creator, and the Holy Spirit. I understand what true love is and what priorities I should have. I am working at being a faithful disciple of Christ.
I have also learned that to be a good disciple, another disco word comes into play: discipline—more specifically self-discipline. It is necessary to apply what I have learned about myself and others in order to learn more about living a life dedicated to following the way of Jesus.
How does that self-discipline work? First of all, decisions have to be made as to what are truthful, worthy goals. With anything that is challenging, perseverance and repetition are necessary. I find that proper rest and sleep are required to keep the mind and body functioning properly. Above all, divine help should be requested through daily prayer, along with the reception of the sacraments. If I want to be a good disciple of Christ, I must stay happily focused on growing in love. I have to open myself to God's love.
Discipline demands faithfulness and work, not just lip-service. In today's liturgy, the responsorial psalm contains a couple of verses about discipline:
But to the wicked man God says:
"Why do you recite my statutes,
and profess my covenant with your mouth,
Though you hate discipline
and cast my words behind you?" (Psalm 50:16-17)
Discipleship and discipline are not always easy. I suggest we are up for the task! Today the reading from Micah (6:8) tells us what to aim for:
You have been told, O man, what is good,
and what the Lord requires of you:
Only to do the right and to love goodness,
and to walk humbly with your God.
We should invite others to discipleship. Parish small faith-sharing groups are remarkably rewarding. Working with others can be very worthwhile and faith-building. Before his ascension, Jesus told his followers:
"Go therefore, and make disciples of all nations, baptizing them in the name of the
Father, and of the Son, and of the holy Spirit, teaching them to observe all that I
have commanded you. And behold, I am with you always, until the end of the age."
(Matthew 28:19-20)
Let's try to discover the true joy of discipleship as we discipline ourselves, discern what is good, and discard what is not-so-good.
D-ear Lord, we are grateful to be your disciples.
I-ncrease our commitment to your holy mission of love,
S-o that, day by day, we will draw closer to Your loving, outstretched arms.
C-hallenge us, with the Holy Spirit's inspiration, to
O-pen our hearts to You and to our neighbors who need to learn more about You.
Amen.
†††
Painting: "Christ Talking Leave of the Apostles," Duccio di Buoninsegna (1255-1319). Museo dell'Opera Metropolitana del Duomo. Public domain.
Scripture passage is from The CatholicStudy Bible: New American Bible, New York: Oxford University Press, 1990.
Sharon Krause is a RENEW volunteer whose writing has appeared in several resources for small-group faith sharing. She is a wife, mother, and grandmother residing in Manchester, Connecticut. Over the years, she has served in many parish ministries.