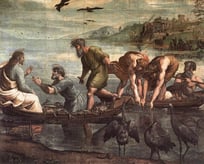 In the Gospel of John, Chapter 21, we read of Jesus' third appearance to his disciples after his resurrection. I enjoy how this account is written; there is a brief conversation between Peter and six other disciples that puts the reader into the scene. We can see them getting into their boat and earnestly fishing in the Sea of Tiberias. They caught nothing except discouragement until Jesus appeared and told them to cast the fishing net to the right side of the boat. After they obeyed Jesus, the net was loaded down with 153 fish! What a difference! I don't know how big the fish were, but the disciples had to drag the net full of fish a hundred yards, and the implication is that there was some worry that the net might tear, but it did not.
Then Jesus invited them: "Come and have breakfast." What an invitation! Jesus, the Risen Jesus, not only took the time to give them fishing advice but had prepared a charcoal fire with fish on it and told the men to add some of the fish they had just caught. Then Jesus even served them bread and fish for a surprise daybreak meal!
We might find some ideas in this story that are useful to us. Have we ever tried having breakfast with Jesus? I am not sure I would want bread and fish for breakfast, but the idea of sitting down quietly without a cell phone or computer and just talking to Jesus about the upcoming day might be helpful. In quiet prayer, Jesus might have some better suggestions about how to go about the day. Perhaps I should cast my net to the other side of my boat. Jesus might teach me how to be of service beyond what I think I can do. Jesus knows about endless and good possibilities. He is there to bless me and give me strength.
My enthusiasm is not always like Peter's. I might not impetuously jump into my day as Peter jumped into the sea. I might sometimes take Jesus for granted or fail to consult him when I should. I have to pay attention and acknowledge the Lord ever present in my life. When those small blessings come along in my day, I should acknowledge to myself and others what the beloved disciple proclaimed, "It is the Lord!" Little blessings are good ways of evangelizing and sharing the good news of Jesus!
I have heard that breakfast is the most important meal of the day. Whether that is true or not, I do think it is important to fortify our spirituality at the very beginning of our day. Some of us have the opportunity to attend daily Mass or at least one or two weekday masses. As the sun rises in the morning, God's Son can rise in our hearts as we prepare to face the challenges of the day. If our work schedule involves second or third shifts, of course I am sure Jesus would invite us: "Come and have dinner."
Psalm 143:8 gives me a good morning prayer beginning:
Let me hear of your steadfast love in the morning, for in you I put my trust.
Teach me the way I should go, for to you I lift up my soul.
And all of Psalm 121 assures us of God's protection. I especially like verses 7 and 8:
The Lord will keep you from all evil; he will keep your life.
The Lord will keep your going out and your coming in from this time on and forevermore.
†††
Painting, The Miraculous Draught of Fishes, Raffaello Sanzio da Urbino (Raphael), 1515.
The scripture passages are from the Revised Standard Version of the Bible: Catholic Edition, copyright © 1965, 1966 the Division of Christian Education of the National Council of the Churches of Christ in the United States of America. Used by permission. All rights reserved.
Sharon Krause is a RENEW volunteer whose writing has appeared in several resources for small-group faith sharing. She is a wife, mother, and grandmother residing in Manchester, Connecticut. Over the years, she has served in many parish ministries.