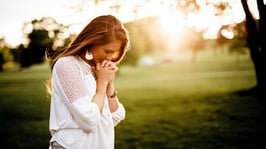 I believe most of us have experienced a close encounter with the Lord every once in a while, perhaps while we are praying or attending a religious function. I will never forget the wonderful closeness I felt with God as I attended the Mass being celebrated for my graduating class of the Catholic Biblical School in Newington, Connecticut. The celebrant was reading from Chapter 17 of the Gospel of John, as Jesus prays for his disciples, which I quote in part:
I ask not only on behalf of these, but also on behalf of those who
will believe in me through their word, that they may all be one.
As you, Father, are in me and I am in you, may they also be in us,
so that the world may believe that you have sent me.
The glory that you have given me I have given them,
so that they may be one, as we are one, I in them and you in me,
that they may become completely one, so that the world may know
that you have sent me and have loved them
even as you have loved me." (Vs 20-23)
It seemed as if the reading was meant for me, that Jesus was praying for me very personally. There was a peace that lingered, a graduation gift I still hold dear.
Another day, I was praying with Psalm 23. Because it is such a familiar psalm, I was reading it slowly and trying to absorb its meaning. I was able to pray and journal some of my own reflections that day, but what really touched me was what happened a day or two later. I was waiting for my friend as she finished up shopping at our local mall. As I sat there, I felt the Lord's presence, and I sensed a paraphrase of part of the psalm that seemed to say, "Sharon is one of my sheep, she shall not want. I make her lie down in green pastures; etc." It was as if Jesus was reassuring me of his personal great love. And we know Jesus is the Good Shepherd of all of us; we just have to pay attention. It takes at least two for an encounter.
Have you ever tried centering prayer? It is prayer in which you just center yourself in silence and be with the Lord. I was practicing this prayer method one day, and this reflection came to me:
I can almost taste the sweetness, I can almost see the glow,
I can almost hear the whisper of the God who loves me so.
This time, words are very simple. This time, prayer is, oh, so still.
This time, I grasp in the quiet the message of his will.
What has made now such a difference?
What has opened up my heart?
What has brought my God so close now,
when I scarce know where to start?
Could it be my meek surrender? Could it be my letting go?
Could it be my leap of trusting in the God who loves me so?
I can almost smell the fragrance, I can almost feel the touch,
I can almost sense a oneness with the God I love so much.
I am sure God wants close encounters with each of us often. In Revelation 3:20, we are invited to a close encounter for which we should be very grateful:
"Listen! I am standing at the door, knocking;
if you hear my voice and open the door,
I will come in to you and eat with you, and you with me."
Photo Credit: Ben White
Sharon Krause is a RENEW volunteer whose writing has appeared in several resources for small-group faith sharing. She is a wife, mother, and grandmother residing in Manchester, CT. Over the years, she has served in many parish ministries.
Scripture passages are from the Revised Standard Version of the Bible: Catholic Edition, copyright © 1965, 1966 the Division of Christian Education of the National Council of the Churches of Christ in the United States of America. Used by permission. All rights reserved.