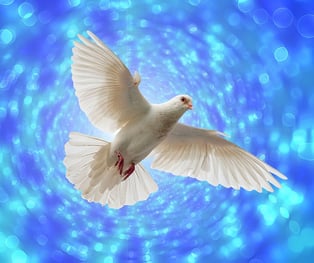 As my husband and I were out running an errand, we came upon a woman who had stopped her car on the side of a busy road. She was looking up at a nearby tree. There, on a branch, was perched a beautiful bald eagle. He was quite a sight to see.
In the colder New England weather, we often see vultures warming themselves as they sit on chimneys and rooftops near where we live. My husband and I do a vulture count on cold mornings if we happen to be out and about. This morning, the vulture count was very high! They were even populating the trees a couple of blocks from our house.
Vultures, eagles, sparrows, ostriches, and plenty of other birds are mentioned in the Bible; if you were to conduct an online topic search, you might be surprised at how many!
The cock or rooster has a sobering place in the gospels as Peter recalls how Jesus had told him that he would deny Jesus three times before the cock crowed twice.. (Mark 14:66-72)
Concerning eagles, we can read of their swiftness, colorful plumage, good eyesight, high nests, and great wings. I am encouraged by the hopefulness described in Isaiah 40:31:
but those who wait for the Lord shall renew their strength,
they shall mount up with wings like eagles,
they shall run and not be weary,
they shall walk and not faint.
I think the dove is my favorite bird in the Bible. It seems to be associated often with good news. In Genesis 8, we read of Noah sending out a dove to learn when the land would support life after the flood. When Jesus was presented to the Lord at the Temple, two turtle doves were offered for sacrifice (Luke 2:22-24).
Not long ago we celebrated the baptism of Jesus by John the Baptist. In Mark 3:16-17 we read:
And when Jesus had been baptized, just as he came up from the water,
suddenly the heavens were opened to him and he saw the Spirit of God
descending like a dove and alighting on him. And a voice from heaven said,
"This is my Son, the Beloved, with whom I am well pleased."
The Holy Spirit, like a dove, makes a wonderful picture in my mind. The purity, freedom, and grace that the image inspires is peaceful and calming.
Even good things can be used for improper purposes; in John 2:13-16, Jesus removes the money changers selling doves from the Temple because he did not want the Temple, a place for prayer, to be a marketplace.
So in my flights of fancy today, I have considered eagles, vultures, and doves, all superb examples of our Creator's versatility. Let us pray today that we may be as far-sighted as the eagle, as persistent and gregarious as the vulture, and as peaceful and spirited as the dove. However, considering my preference and the current virus pandemic, I pray from Psalm 55:6-7-8:
And I say, " O that I had wings like a dove! I would fly away and be at rest;
truly, I would flee far away; I would lodge in the wilderness; I would hurry to
find a shelter for myself from the raging wind and tempest."
____
Photo by Gerd Altman at Pixabay.
The scripture passages are from the Revised Standard Version of the Bible: Catholic Edition, copyright © 1965, 1966 the Division of Christian Education of the National Council of the Churches of Christ in the United States of America. Used by permission. All rights reserved.
Sharon Krause is a RENEW volunteer whose writing has appeared in several resources for small-group faith sharing. She is a wife, mother, and grandmother residing in Manchester, Connecticut. Over the years, she has served in many parish ministries.