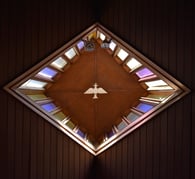 With the easing of pandemic restrictions and the beginning of many summer sports seasons, I have been hearing about coaches—for instance, who coaches which team and whose contract has been renewed. Out of curiosity, I checked online to see what are considered necessary attributes of a good coach. I found that, in general, coaches have to be enthusiastic, positive, good teachers, supportive, focused, goal-oriented, knowledgeable, patient, clear communicators, prepared, inspirational, and good leaders. Whew! That's a lot of qualifications!
Towards the end of last month, we celebrated the feast of Pentecost, when the Holy Spirit came to the disciples as tongues of fire, instilling in them the ability to tell people of many different languages about the wonderful acts of God. I started to think how the Holy Spirit is probably a kind of divine coach who has all the attributes of the best coach ever.
As we pray in the Nicene Creed, the Holy Spirit is the Lord and giver of life, who spoke through the prophets. In John's Gospel (14:26), Jesus tells us,
But the Advocate, the Holy Spirit, whom the Father will send in my name, will teach you everything and will remind you of all that I have said to you.
So we have a great teacher! And the Holy Spirit is there to give us support, as St. Paul wrote to the Christians in Rome (8:26-27):
Likewise the Spirit helps us in our weakness; for we do not know how to pray as we ought, but that very Spirit intercedes with sighs too deep for words. And God, who searches the heart, knows what is the mind of the Spirit, because the Spirit intercedes for the saints according to the will of God.
The Holy Spirit imparts knowledge, as Paul wrote in his first letter to the Corinthians (2:11):
For what human being knows what is truly human except the human spirit that is within? So also no one comprehends what is truly God's except the Spirit of God.
Thanks to the Holy Spirit, we know we have wonderful gifts—wisdom, understanding, counsel, knowledge, fortitude, piety, and fear of the Lord. The Spirit, as a perfect coach, helps each of us to comprehend and use these gifts.
All these are activated by one and the same Spirit, who allots to each one individually just as the Spirit chooses. (1 Corinthians 12:11).
We are also given the fruits of the Spirit: charity, joy, peace, patience, kindness, goodness, long-suffering, gentleness, faith, modesty, self-control, and chastity; and we have a Holy Guide who helps us to be goal-oriented in testifying to and exemplifying the goodness and love of God.
While human coaches cannot be so intimate with those they coach, we can have an enthusiastic childlike intimacy with God, because we are led by the Holy Spirit.
When we cry, " Abba! Father!" it is that very Spirit bearing witness with our spirit that we are children of God, and if children, then heirs, heirs of God and joint heirs with Christ—if, in fact, we suffer with him so that we may also be glorified with him. (Romans 8:15b-17)
Unlike sports coaches, our Spirit Coach can promise us an ultimate winning outcome for our endeavors—eternal life with our Loving Father. Come Holy Spirit! Renew us! Inspire us! Thank you, Holy Spirit!
†††
Photo by Joshua Eckstein on Upsplash
The Scripture passages are from the New Revised Standard Version Bible: Catholic Edition, copyright © 1989, 1993 the Division of Christian Education of the National Council of the Churches of Christ in the United States of America. Used by permission. All rights reserved.
Sharon Krause is a RENEW volunteer whose writing has appeared in several resources for small-group faith sharing. She is a wife, mother, and grandmother residing in Manchester, Connecticut. Over the years, she has served in many parish ministries.