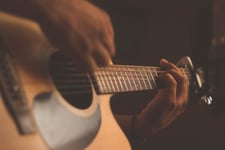 One day I was having an ordinary conversation with my teen-aged grandson, Joshua. I was telling him that when I was a teen, I used to play a few tunes on an acoustic guitar and that my plan was that, after I retired, I might dig it out of the attic and try learning to play it again. My comments sparked his interest, and before I knew it, we were trudging up my old attic ladder entrance to resurrect my instrument.
I showed Josh a few of the things I remembered about the guitar. His birthday was approaching soon, so you can probably guess what Josh's maternal grandparents' gift to him was—an ordinary, but brand new, acoustic guitar!
It has been about three years since our trip to the attic, and now Joshua is a very good guitar-player. A family friend, Kevin, gave Josh a few lessons; then Josh bought a better guitar. Next, he took some lessons from a music teacher at the college he now attends. His father helped him to build a guitar storage stand. Josh occasionally comes to my house and serenades me. When his paternal grandfather was dying in a convalescent home, Josh went to see him and played his guitar and sang to him. While that grandpa was rather senile, he could still remember to ask for the "guitar man." An ordinary conversation led to buying an ordinary guitar which led to Josh becoming an extraordinary guitarist.
This week, liturgically speaking, we are beginning "Ordinary Time." We may understand that to mean that we are not in a special season of Christmastime or Eastertide, or the preparation times of Advent or Lent. However the word "ordinary" could connote something without potential or just plain and uneventful. That certainly is not the case with any of our liturgies. Anytime we celebrate the Eucharist it is extraordinary! Ordinary Time liturgies are full of inspiring scripture readings.
For example, in the Mass for today, Monday of the first week in Ordinary Time, the gospel reading is Mark 1:14-20. It is about the start of Jesus' ministry in Galilee, when he calls Simon and Andrew, two ordinary fishermen, to drop their everyday occupation and follow him. Simon, later called Peter, will eventually become our first pope. We have come to know Peter from many colorful gospel accounts about Jesus' ministry. Andrew will be a close disciple of Jesus. He will be at the Last Supper. He will spread the good news of God's kingdom around the shores of the Black Sea, and in what today we call Turkey and Greece. Today he is the patron saint of fishermen and singers.
During the past several months of pandemic, we have been bemoaning the fact that even ordinary life, what we had considered basically "normal," is something we deeply miss. With God's help, we can make even our current "ordinary" a time filled with opportunities to grow in and share God's love—-but in different ways. Our prayers may sound different. Our good deeds to help neighbors may take on a different look. Those random acts of kindness may have to be more random, and kind in different ways. Together we can make our ordinary time extraordinary.
Photo by Jefferson Santos on Unspalsh
Sharon Krause is a RENEW volunteer whose writing has appeared in several resources for small-group faith sharing. She is a wife, mother, and grandmother residing in Manchester, CT. Over the years, she has served in many parish ministries.