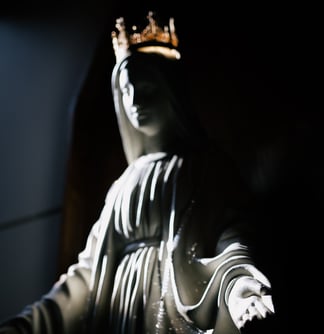 A reading from the Book of Revelation
(Chapters 11: 19a; 12:1-6a,10 ab )
The Book of Revelation is the last book in the New Testament. It was probably written in the last decade of the first century A.D. No one knows for certain who wrote it, but it was seemingly not written by St. John the Evangelist who wrote the Gospel of John. It was written to help the Christians who were being persecuted by the Romans and were being challenged by various groups of Christians to split from the main Church.
The Solemnity of the Assumption of the Blessed Virgin celebrates the Church's teaching that, after her earthly life, Mary was assumed, body and soul, into the presence of God. The Church reads this text on this occasion mostly because of this passage, alluding to Mary, now Queen of Heaven: "A great sign appeared in the sky, a woman clothed in the sun, with the moon under her feet and on her head a crown of twelve stars. She was with child and she wailed aloud in pain as she labored to give birth…. Her child was caught up to God and his throne."
This reading ends with a powerful message: "Then I heard a loud voice in heaven say: 'Now have salvation and power come, and the Kingdom of our God and the authority of his anointed one.'"
The overall message of Revelation is simply that God is ever present with his people, especially in times of stress and danger. In this time of COVID and fires and floods and global warming, we need the presence of our Loving God deep in our hearts and in our midst.
Responsorial Psalm
(Psalm 45)
"The queen stands at your right hand, arrayed in gold." This psalm was written many hundreds of years before Mary's lifetime, but the liturgy relates it to her.
A reading from St. Paul's First Letter to the Corinthians
(Chapter 15: 20-27)
Think of yourself as a Christian convert living at the time of Paul. You have seen people in your community and maybe in your own family arrested and imprisoned and some even martyred because of their faith. Might you be next? But you have hope in the Resurrection of Christ. "Christ has been raised from the dead, the first fruits of those who have fallen asleep…. For just as in Adam all die, so too in Christ shall all be brought to life, but each one in proper order. Christ as first fruits; then, at his coming, those who belong to Christ."
Over the centuries, millions of Christians have been martyred in the name of Jesus Christ. We can be thankful that that won't be our fate, but we will all die some day and enter into the loving embrace of our brother Jesus. That is the beautiful fate we have been promised.
A reading from the Holy Gospel according to Luke
(Chapter 1:39-56)
Mary travels to visit her cousin Elizabeth who was pregnant. "When Elizabeth heard Mary's greeting, the infant (John the Baptist) leaped in her womb and Elizabeth , filled with the Holy Spirit, cried out in a loud voice and said, 'Blessed are you among women and blessed is the fruit of your womb .'" That last line is familiar to most of us from the Hail Mary prayer which we learned as children.
And Mary said, "My soul proclaims the greatness of the Lord; my spirit rejoices in God my Savior for he has with favor on his lowly servant. From this day all generations will call me blessed: the Almighty has done great things for me and holy is his name…. He has cast down the mighty from their thrones and lifted up the lowly…. He has filled the hungry with good things, and the rich he has sent away empty." Her words reflect the fact that God chose her, not someone wealthy or politically powerful, as the vehicle through whom the Divine would enter history in human form.
Luke and all the Gospel writers want to make sure that their readers and listeners know that Jesus, Mary's child in the human realm, is much more than a new prophet and even more than just the Messiah, as important as that was. He is the Son, the only Son of God. That is what they believed and what we believe.
---
Photo by Grant Whitty on Unsplash
Excerpts from the English translation of the Lectionary for Mass © 1969, 1981, 1997, International Commission on English in the Liturgy Corporation (ICEL). All rights reserved.
Bill Ayers was a founder, with the late singer Harry Chapin, of WhyHunger. Bill was a radio and TV broadcaster for 40 years. He is a member of Our Lady Queen of Martyrs Church in Centerport, New York.