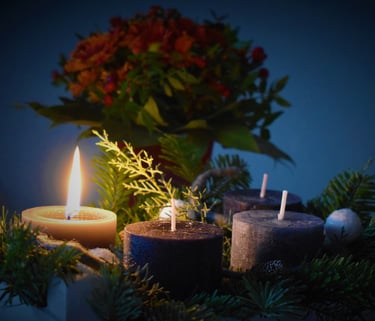 As I seek a new approach to welcoming Advent this year, Psalm 51, especially verses 10-17, has inspired a personal prayer that I am moved to share.
Create in me a clean heart, O God, and put a new and right spirit within me, (v. 10)
Lord, I know you are very patient with me. You did not create only in the Garden of Eden. Your power to create, correct, and enhance creation will encourage me as I proceed through the days of Advent. Help me to focus on your Son and what a gift he is to me. Assist me as I endeavor to rid myself of trivial concerns and to pay closer attention to my spiritual priorities. Take away any tendency to give in to discouragement or testy moodiness brought on by fatigue,
Do not cast me away from your presence, and do not take your Holy Spirit from me. Restore to me the joy of your salvation, and sustain in me a willing spirit. (vv. 11-12)
The Holy Spirit offers amazing inspiration when I am open and paying attention. Lord, send me that Spirit and help me recognize the Spirit's promptings. How awesome is the joy of salvation that I enjoy thanks to Jesus' selfless gift of himself. I can know sweet joy every day of this Advent season: J-esus O-nly Y-ou!
Then I will teach transgressors your ways, and sinners will return to you. (v. 13)
Perhaps I can be an example to others as I prepare for the feast of Christmas. Maybe I can remind those who have gotten careless or have fallen away from our God that he is there to love and to welcome them back into relationship with him. Lord, give me a gentleness and the right words to proclaim your forgiveness.
Deliver me from bloodshed, O God, O God of my salvation, and my tongue will sing aloud of your deliverance. (v. 14)
Lord, I, personally, have not known bloodshed, but I know of others in parts of the world where there is evil. I pray for your wise direction in my inclinations to donate to charities this time of year.
As I sing Christmas carols and seasonal songs, may I remain mindful of their true meaning. Teach me a Christmas lullaby to pray for little babies in need.
O Lord, open my lips, and my mouth will declare your praise. (v. 15)
I praise you, Lord, for your loving mercy. Help me to use my words in the most effective way to honor you, to give you glory. Thank you for the gift of language and my communication skills. May I strive to put them to good use, especially when I talk and text so much nowadays!
For you have no delight in sacrifice; if I were to give a burnt offering, you would not be pleased. The sacrifice acceptable to God is a broken spirit; a broken and contrite heart, O God, you will not despise. (vv. 16-17)
Lord, I am sorry for my sins. I humbly seek your forgiveness. I will work during this Advent to spread your love to my family and friends. Show me my faulty habits that I may try to improve my behavior. I trust in your guidance and strength. Amen.
†††
Photo by Waldemar Brandt on Unsplash
The psalm verses are from the New Revised Standard Version Bible: Catholic Edition, copyright © 1989, 1993 the Division of Christian Education of the National Council of the Churches of Christ in the United States of America. Used by permission. All rights reserved.
Sharon Krause is a RENEW volunteer whose writing has appeared in several resources for small-group faith sharing. She is a wife, mother, and grandmother residing in Manchester, Connecticut. Over the years, she has served in many parish ministries.