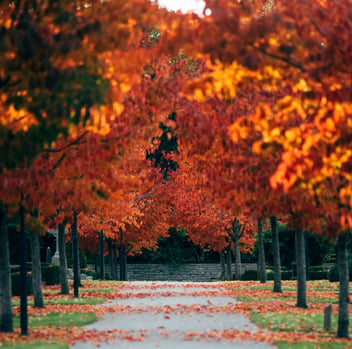 This time of year, I like to take rides on country roads and look for little hints of color changes in the trees. I love the season of autumn, especially here in New England, and usually wait impatiently for stores to start displaying fall-themed products. To me, it is amazing how Creator God has equipped nature with such beautiful colors and the chemistry to realize them. It is all very pleasing to the eye.
But amazement goes a lot farther than color hitting the eye. True amazement cuts to our very core and can be life changing. Jesus, the Creator's Son, filled many people with awe and amazement and astounded his followers over and over again when he walked among them. His miracles, teaching, and actions captured their rapt attention.
Particularly in the Gospel of Mark we read many examples of how Jesus inspired awe. In at least 13 verses we read words such as astounded, awe, and amazement. In Mark 15:5 we read that even Pilate was amazed.
My question is, do we take the time to be amazed at all the positive realities around us these days? Every time I turn on a newscast, there is mostly bad news, especially related to the pandemic virus and its variants. People's reactions to limitations and mandates take up so much of their energy and time.
I think it is only with the Lord's help that we can allow ourselves to be focused on that which is astoundingly good in today's world. While we can use our creativity and knowledge to try to solve world problems, we cannot dwell only on what is bad and evil.
The Gospel of Mark is the shortest of the four gospels. Maybe if we take the time to read it during our late summer prayer time, we can go a little deeper into understanding Jesus' love. We can pray with this holy scripture and then ask Jesus for help. I suggest the following prayer:
Lord Jesus,
your words, your deeds, your teaching, and your love are truly amazing.
We are astounded by the wonders of your saving love every day of our lives. Increase our amazement and help us to share that amazement with others so they will come to know you more and more. We thank you, awesome Lord, for suffering, dying, and rising to save us. Praise to you, Son of God!
I was inspired to write the prayer below while I was at a retreat last year. You may recognize the cadence as similar to another prayer you know.
Act of Acclamation
O my God, I am extremely grateful
for having been blessed by you.
And I appreciate all my gifts
because they come from you, my God,
who art all loving
and deserving of all my love.
I promise to strive,
with the help of Christ's example,
to be more generous to those in need,
and to take nothing you give me for granted.
Amen.
†††
Photo by Oscar Nord on Unsplash
Sharon Krause is a RENEW volunteer whose writing has appeared in several resources for small-group faith sharing. She is a wife, mother, and grandmother residing in Manchester, Connecticut. Over the years, she has served in many parish ministries.