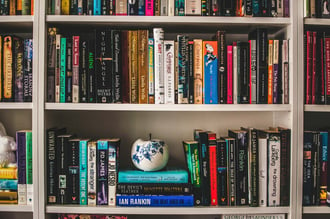 Thank God, my husband and I have not caught any viruses during the past year; but we have purposely stayed away from stores and crowds and have somewhat hibernated in our house. I'd like to share with you some "aha!" moments I have had during this time.
For instance, I have figured out that I have too much stuff! After I retired, one of my fun pastimes used to be to go shopping for non-necessities. I would go to department stores and specialty stores and just look around to see if anything new or unique caught my eye. I might purchase something just in case I might need it in the future. I might need a gift for someone. My husband might get a craving for that special jelly. I might get tired of looking at that print on the living room wall. A holiday might be coming up, and that decoration would really break up the monotony.
Being home so much, I have noticed that many of my storage spaces are crammed full of stuff that I really don't need. A lot of those things I purchased just in case have become just in drawers and just on shelves. The truth is, a number of items I have recently seen in those drawers and on those shelves I had totally forgotten I had! Aha! Obviously, I do not need them.
A friend phoned me and asked if I remembered a particular book we had read during Advent. I went to my bookcase—one of four in the house—and looked for that book. I had a tough time finding it amid all the other books. I did notice a large number of great titles and great authors, books I had gotten and meant to read someday. Aha! Maybe it is time to make some literary decisions and either read or donate some reading materials!
I also seem to have an awful lot of shoes I have collected over the years. I could easily be an octopus! And I own enough clothes to crowd my drawers and closets. Aha! Maybe it is time to make a raid and figure out what still fits and what pleases my fashion needs. Through gifting and weakness for pretty baubles, I have more than enough costume jewelry. Aha again! Why keep all of this stuff? Who even sees me most of the time but my husband who could care less about jewelry?
How about the more important spiritual ahas? Maybe God is giving me the gift of time to use to pray more and come closer to him. Perhaps some of those spirituality books, those bookcase treasures, should be unlocked and examined. Leisure time need not be procrastination or lazy time. While my lack of contact with many people might take away occasions of sins of comission, I still have to watch out for sins of omission.
Yes, I have an abundance of stuff, but the kind of abundance the Lord offers is different. The Lord blesses me with what I need, not all that I think I want. And he blesses me so I can, in turn, help others with their needs. In Luke 6:38, we read:
give, and it will be given to you. A good measure, pressed down, shaken together, running over, will be put into your lap; for the measure you give will be the measure you get back.
In 2 Corinthians 9:8 we learn:
And God is able to provide you with every blessing in abundance, so that by always having enough of everything, you may share abundantly in every good work.
Aha! God's abundance has to do with life with him and knowledge of him. It's about fullness of joy and spiritual strength to perpetuate good. In John 10:10, Jesus says:
The thief comes only to steal and kill and destroy. I came that they may have life, and have it abundantly.
†††
Photo credit: Aneta Pawlik on Upsplash
The scripture passages are from the Revised Standard Version of the Bible: Catholic Edition, copyright © 1965, 1966 the Division of Christian Education of the National Council of the Churches of Christ in the United States of America. Used by permission. All rights reserved.
Sharon Krause is a RENEW volunteer whose writing has appeared in several resources for small-group faith sharing. She is a wife, mother, and grandmother residing in Manchester, Connecticut. Over the years, she has served in many parish ministries.