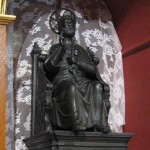 In the run-up to the U.S. presidential election of 1884, one of the names being bandied about as a Republican candidate was that of former army Gen. William T. Sherman.

Sherman famously dismissed this talk by saying, "I will not accept if nominated and will not serve if elected.''

When enough votes have been cast in a conclave to elect a man pope, that man gets an opportunity to make what is known as a "Sherman-esque statement."

In the conclave that will elect the successor to Pope Benedict XVI, the dean of the College of Cardinals — Cardinal Angelo Sodano — will ask the man who has been chosen, "Acceptasne electionem de te canonice factam in summum pontificem? (Do you accept your canonical election as supreme pontiff?)''

The pope-designate most likely will respond, "Accepto.''

The answer is predictable not because no one would turn down the office of pope but because the modern practice is that a member of the conclave who knows that he would not accept the office, perhaps for reasons of health or age, makes that clear before the ballots are cast.

That actually occurred at least once in recent years — during the conclave that elected Pope John Paul II in October 1978.

According to the Jesuit author Father Thomas J. Reese, a significant number of votes were being cast for Cardinal Giovanni Colombo, archbishop of Milan, who was 76 years old and ill.

Cardinal Colombo let it be known that he could not accept the office if he were chosen.

No doubt every man who is elected pope is acutely conscious of the weighty nature of the office.

There are several instances on record in which the newly-chosen pope has expressed this, perhaps none more dramatically than Gregory XIV who asked the conclave that elected him in 1590, "God forgive you, what have you done?"

Pope Benedict XVI has said that he was thinking of a quiet retirement around the time that his colleagues elected him in 2005.

"At a certain point, I prayed to God, 'please don't do this to me,' '' Benedict has said. "Evidently, this time he didn't listen to me.''

A man I knew when I was in my teens used to say, "Estamos aquí y el papa está en Roma (We are here, and the pope is in Rome),'' meaning that the pope was a remote figure whose activities had little to do with our lives.

Beginning with Paul VI, however, the popes have added to the burden already intrinsic in their office by traveling around the world precisely to emphasize their pastoral role.

John Paul II and Benedict XVI also devoted a lot of time and energy to writing about Catholic faith in a way that is accessible not only to scholars but to all of us.

A man who accepts the office of pope in our time does so primarily to help the rest of us apply the Gospel to our everyday lives.

While he takes on the difficult task of governing the Church, he is most important to us as a pastor and teacher whose example and wisdom have everything to do with how we carry out each day the commandment of Jesus to love God and each other.

We can use this time, as we wait to learn who will next occupy the Chair of Peter, to pray for the Holy Spirit to guide the cardinals in their decision and to support their choice in his work as our shepherd.

Charles Paolino is a member of the RENEW staff and a permanent Deacon in the Diocese of Metuchen.