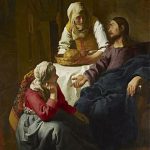 Lord God,
in your wisdom you invite us
out of our complacency.
You open our eyes
to see you with new vision.
You open our hearts
to love you with greater passion,
and you open our hands
to serve you with the purest intentions.
Lead us more deeply
into the mystery of discipleship
so that we may follow you
with steadfast faithfulness.
Give us the heart of Mary,
so that we may be transformed
by your Word
and fortified by your presence.
Give us the mind of Martha,
so that we can diligently accomplish your mission.
But above all, continue to invite us
into intimate and lasting relationship.
We ask this through Christ, our Lord.
Amen.

Adapted from The People's Prayer Book, © RENEW International.