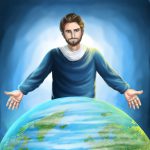 Jesus, we did not choose you.
Rather, you chose us
to go forth as emissaries of God's love and peace
into every part and place of our lives.
What an awesome calling--
to be your eyes, your ears, your hands for others.
Free us from the selfishness
and fears that hold us back.
Still us at the beginning of each day,
so that we may hear your voice
and feel your love blessing us and sending us forth.
Open us to the giftedness
of those with whom we minister,
and help us become more attentive and supportive allies.
All of these blessings we ask in your name,
as you told us to,
you who live and reign
with the Father and the Holy Spirit,
one God, forever and ever.
Amen.

Adapted from The People's Prayer Book, © RENEW International.