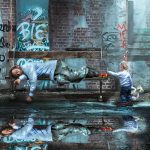 Jesus,
please help us open our eyes and hearts and hands
to those children of God suffering in our midst.
Help us stand with people, as you did,
when they are victimized or vilified
because of their sexual orientation,
their race or nationality,
a disease they have,
or criminal deeds they have done.
Help us, O gracious God,
become good neighbors to all your children.
Help us to become sisters and brothers,
in deeds as well as in words,
and advance the coming of your beloved community.
We pray in the name of your Son, Jesus
who lives and reigns with you and the Holy Spirit,
one God, forever and ever
Amen.

Adapted from The People's Prayer Book, © RENEW International.