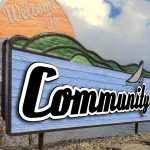 Jesus, you showed us
how a community should live.
Loving and caring and helping
one another were the cornerstones.
We need to remember
that we can help to create community.
We can come together
and share with one another,
support one another, and love one another.
It may seem difficult in these times,
but your example shows us the way.
Guide us, dear Jesus,
for we need your help.
We ask this in your name.
Amen.

Adapted from The People's Prayer Book, © RENEW International.