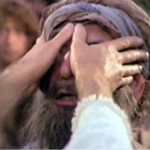 "They brought the one who was once blind to the Pharisees. Now Jesus had made clay and opened his eyes on a sabbath. So then the Pharisees also asked him how he was able to see.
He said to them, 'He put clay on my eyes, and I washed, and now I can see.' So some of the Pharisees said, 'This man is not from God, because he does not keep the sabbath.' But others said, 'How can a sinful man do such signs?' And there was a division among them. So they said to the blind man again, 'What do you have to say about him, since he opened your eyes?' He said, 'He is a prophet.'
They answered and said to him, 'You were born totally in sin, and are you trying to teach us?' Then they threw him out.
When Jesus heard that they had thrown him out, he found him and said, 'Do you believe in the Son of Man?' He answered and said, 'Who is he, sir, that I may believe in him?' Jesus said to him, 'You have seen him, and the one speaking with you is he.' He said, 'I do believe, Lord,' and he worshiped him" (John 13-17, 34-38).

Jesus was a busy person. Crowds thronged around him, and people constantly demanded his attention. And yet standing in the midst of a big crowd around the Pool of Siloam, Jesus gave his undivided attention to one blind man. This man was important enough for Jesus to give his time and complete attention to helping him. Jesus not only cured him but also gave him new hope and a new purpose in life. Jesus teaches us that each person has dignity and must be respected no matter what his or her condition. Measuring or judging others by achievements, good looks, success stories, wealth, talents—whatever—is not fitting for children of God. In doing that, we too are blind, without real sight. We need insight to see the worth and dignity of every human being. Without insight, we stay enclosed in our comfort zones with those whose presence puts us at ease. Jesus challenges us to move out of our safe harbor, to be "uncomfortable," and include the excluded.

The blind man in the story went through a process to come to an understanding of who Jesus was. First, he saw Jesus as a man who did something wonderful for him. Then, he called Jesus a "prophet"—someone called by God to carry a divine message and who works for God's vision on earth. Finally, the man came to confess that Jesus was the Son of God. He realized that Jesus was not someone who could be explained in human terms. In his closeness to God, his unfaltering love and care for others, Jesus lived more faithfully our human nature than any other human being ever has. He remains not only our greatest model but our greatest support as we strive to live as "more than human."

- How can I overcome my own "blindness" to see the worth of others?

Adapted from Word on the Go, a downloadable resource from RENEW International.