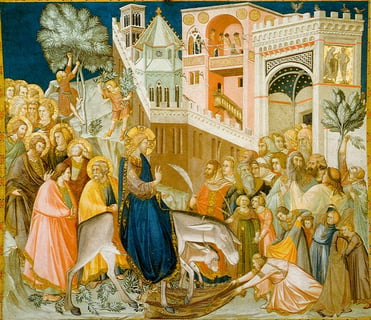 A reading from the prophecy of Zechariah
(Chapter 9:9-10)
Israel was surrounded geographically on all sides by larger, more powerful nations and was often conquered as war-like kings came riding into town. But the prophet Zechariah presents a different picture of the true king:
"Thus says the Lord: Rejoice heartily, O daughter Zion, shout for joy O daughter Jerusalem! See, your king shall come to you; a just savior is he, meek and riding on an ass, on a colt, the foal of an ass. He shall banish the chariot from Ephraim, and the horse from Jerusalem; the warrior's bow shall be banished, and he shall proclaim peace to the nations. His dominion shall be from sea to sea, and from the river to the ends of the earth."
Zechariah is talking about the hoped-for messiah who, we believe, was Jesus who did not enter Jerusalem (on the day we observe as Palm Sunday) as a conqueror on horseback but rather as a servant on a donkey, a beast of burden. He did that intentionally, to make an important point about who he really was.
Responsorial Psalm
(Psalm 145:1-2, 8-9, 10-11, 13-14)
"I will praise your name forever, my king and my God." This king is not like any other. He is "gracious and merciful, slow to anger and of great kindness."
A reading from St. Paul's Letter to the Romans
(Chapter 8:9, 11-13)
"You are in the Spirit, if only the Spirit of God dwells in you. Whoever does not have the Spirit of Christ does not belong to him. If the Spirit of the one who raised Jesus from the dead dwells in you, the one who raised Christ from the dead will give life to your mortal bodies also, through his Spirit that dwells in you."
Paul uses the word Spirit four times in this short saying because he wants to make sure that his readers know this most important truth, that the very Spirit of God, which we call the Holy Spirit, lives in each one of us. Do you believe that for you? Do you call upon the Holy Spirit, pray to the Holy Spirit?
I must say that as a young man attending Catholic high school and college I did not "get it." I prayed to Jesus and to our Father, who were apart from me, but not to the Holy Spirit who I later learned lived within me. Coming to know the presence of the Holy Spirit within my soul has been a wonderful gift. Think about it. You and I are never really alone. We have the presence of God's own Spirit within us—always, even in our darkest, most painful moments. Please take a little time to say hello and open your heart to the Spirit.
A reading from the Holy Gospel according to Matthew
(Chapter 11:25-30)
Jesus said to the apostles, "All things have been handed over to me by my Father. No one knows the Son except the Father, and no one knows the Father except the Son and anyone to whom the Son wishes to reveal him."
"Come to me, all you who labor and are heavy burdened, and I will give you rest. Take my yoke upon you and learn from me, for I am meek and humble of heart; and you will find rest for yourselves. For my yoke is easy and my burden is light."
The Jewish people were monotheists. They believed in one God who they thought of as their Father. Jesus is saying that he is the Son of that same Father and that he and the Father are one. So, Jesus is saying only that he is the Messiah but much more. He shares the very life of God. Many in his time could not get it, but Jesus wants those who do get it to know a different way of living—not under the yoke of an enslaver but in companionship with one who shares a yoke that is easy and a burden that is light.
Sometimes, it might seem that our burdens are not so light: almost routine news of gun violence, the lingering threat of illness from the Covid virus, economic hardships, and seemingly intractable poverty and dislocation of defenseless people.
What are you doing to lighten your burdens and those of people around you? What are the main sources of life for you? Do you seek them out and rejoice in them? Let us remember to be in touch with the very Spirit of God who lives in each of us.
✝️
Fresco, Christ's Entry into Jerusalem by Pietro Lorenzetti (1280-1348). Basilica of St. Francis of Assisi, Assisi, Italy. Public domain.
Excerpts from the English translation of the Lectionary for Mass © 1969, 1981, 1997, International Commission on English in the Liturgy Corporation (ICEL). All rights reserved.

Bill Ayres was a founder, with the late singer Harry Chapin, of WhyHunger. He has been a radio and TV broadcaster for 40 years and has two weekly Sunday-night shows on WPLJ, 95.5 FM in New York. He is a member of Our Lady Queen of Martyrs Church in Centerport, New York.