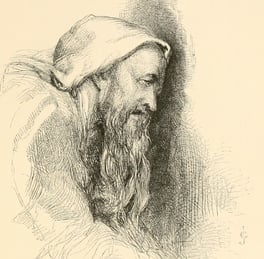 A reading from the book of Job
(Chapter 38:1, 8-11)
Job is the prototypical suffering servant, a good and faithful person who suffers untold misfortunes, including grave illness, loss of loved ones and property, and misunderstanding from his three closest friends who see him as guilty of some sin. Where is God in all this? Why is he treating this good man so badly? How can Job still believe in a God who has not only abandoned him but seems to be the cause of his unjust pain?
In this reading toward the end of the book, God seems to begin to set things straight. He is all powerful, and he will not allow any more disasters to befall Job.
This is certainly a disturbing story about a God that is very foreign to us but for the people back then (likely the sixth century B.C.) it was a cautionary tale to help them deal with horrendous adversity. No matter how awful life may be, God is still in control and will save the person suffering.
We have a very different view of an all-merciful, loving God. Terrible things do happen in our lives, but we are never alone as Job seemed to be. The key message of Jesus is simple and stated over and over again: I am with you.
Responsorial Psalm
(Psalm 107)
"Give thanks to the Lord, his love is everlasting." Yes! God's love is always there, even though we may not always be aware of that powerful presence, especially in our times of suffering or crisis. Those are the times when we most need the all-loving and powerful presence of God who is not only "out there" but lives within us in the presence of the Holy Spirit.
A reading from St. Paul's Second Letter to the Corinthians
(Chapter 5: 14-17)
"So whoever is in Christ is a new creation; the old things have passed away; behold, new things have come." You and I are a "new creation." Amazing! What does it mean?
The heroes in children's and teen media are said to have super powers. It is all fiction, of course but it makes billions of dollars for its creators. It taps into the need in children and teens and some adults to go beyond the human powers they already have. St. Paul and Jesus tell us that we do have a special power, the power of the Holy Spirit. Of course, it is not a physical power but a much more needed spiritual power that allows us to tap into the depths of our spirit to empower us to do what seemed to be impossible.
Suppose you are in a challenging situation in your family or at work, and you think to yourself that there is no way out that will not be devastating. Someone is going to be hurt, probably you. But then, cooler heads and loving hearts prevail, including yours. Something is indeed new. You are a new creation.
Sometimes, of course, it does not work out the way you want. You and others are hurt. But we are still that new creation that St. Paul wrote about two thousand years ago. If we open our hearts, we will discover that new creation that we may have missed in the midst of our troubles, living within us.
A reading from the Holy Gospel according to Mark
A reading from the holy Gospel according to Mark
(Chapter 4:35-41)
During the time of Jesus most people believed in many gods, and the question always was about the power of each god. How would the god protect the people? How could the people know they were protected, and what did they need to do to secure the god's benevolence?
That is what Job had to deal with to prove the faithfulness and power of God. The disciples asked the same question of Jesus in the midst of a powerful storm: "Teacher, do you not care that we are perishing?" This was a test of Jesus' power, the power over life and death.
But power is not magic, and God's power is not to be bargained for. "God, you do this for me and I will"—you fill in the blank. We do not need to make bargains with God. We are always embraced by the all-loving power of God even when we do not feel it. We have certain expectations, hopes, fears, and passionate pleas. We pray, but nothing seems to happen. Something is always happening in our relationship with God, but often we do not have the eyes to see or a heart open enough to trust. Even the apostles failed to trust over and over again. They flunked " Trust 101" and beyond, but Jesus never lost faith in them and he will not lose faith in us, even when we do not keep our part of the bargain. The truth is, we don't need bargains with God. We need only trust.
---
Drawing: "Job" by Sir John Gilbert (1817-1897).
Excerpts from the English translation of the Lectionary for Mass © 1969, 1981, 1997, International Commission on English in the Liturgy Corporation (ICEL). All rights reserved.
Bill Ayers was a founder, with the late singer Harry Chapin, of WhyHunger. Bill was a radio and TV broadcaster for 40 years. He is a member of Our Lady Queen of Martyrs Church in Centerport, New York.