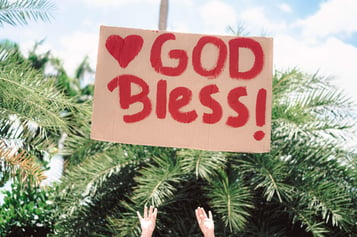 Happy birthday! Thank you! Merry Christmas! Wet Paint! Marry me! Get lost! Bug off! Love you! Each expression is composed of just two words, but we get the message…and sometimes, the attitude.
I was at a hospital one day because I had to have a CAT scan. I found out after I got there that I had to "check in" in a particular office before going to the scan room. Stressed and anxious, I was a little put out that I had to sign in down the hall. As I was strolling around, there was an aide walking in the opposite direction. Out of the blue she said to me, "Nice outfit!"
In my red capris and floral-patterned, red and white shirt, I was caught off guard, wrapped up in my own concerns. When she surprised me with that compliment, I smiled and said, "Thanks!"
For that brief moment, my mood was lightened and my ego lightly stroked. The smile overruled my anxiety. Those two little words! Two words can change your mind, precipitate a smile, put you on the defensive, caution you of danger, or give you hope. Simple, yet meaningful.
In the reading from Matthew's Gospel in today's liturgy, Jesus first says, "Courage, daughter!" (9:22) to the woman with a hemorrhage after she has touched the tassel of his cloak and is healed. And Jesus yells, "Go away!" (9:24) to the mourning crowd and then calls the official's daughter back to life.Two-word attention-getters!
Recently, I have tried the two-word phrase with people I encounter, even some I don't know. I have surprised them with little affirmations or compliments, made them smile, and maybe uplifted them a little."Nice hairdo!" "Pretty shirt!" "God bless!"
Maybe today some of these "two-worders" can uplift us and give us food for prayer:
Jesus saves. Love overcomes!
Jesus rose. Spirit, come!
Abba, Father! Renewed hope!
Thank God! God surprises!
Jesus forgives. Blessings abound!
†††
Photograph by John Benitez on Unsplash.
Sharon Krause is a RENEW volunteer whose writing has appeared in several resources for small-group faith sharing. She is a wife, mother, and grandmother residing in Manchester, Connecticut. Over the years, she has served in many parish ministries.