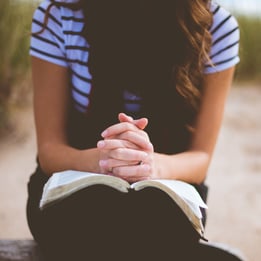 When I was a little child, my mother used to take me to Sunday morning Mass. We did not own a car, so she and I would take the 15-minute walk to St. Joseph's Church on Cottage Street in Middletown, New York. We would pass a restaurant, and it would be closed, because it was Sunday, and most businesses were closed on Sundays in those days. However, after Mass, we would often stop into a little convenience store to buy a newspaper for my non-Catholic dad. The lady in this very tiny store would stand behind the counter and solicitously listen to little ol' wide-eyed me as I told her which of the numerous penny candies in their respective bins I had selected. While I did not come away with too much, I was happy with my treats.
Over the years, I have seen how the Lord's Day has gotten so much busier. Gradually, stores and restaurants opened seven days a week. More and more people were needed to work on Sundays. The economy was getting more robust. Retailers were getting busier and busier. Vigil masses became popular to help the Sunday workers more easily attend Mass.
So now, in this busy 21st century, how do we keep holy the Lord's Day? I know that during the pandemic many people wisely stayed away from indoor crowds and perhaps watched liturgies online. Now life is getting back to a semblance of normal, and churches are open with fewer or no restrictions on attendance.
A few questions come to mind. God rested on the seventh day of creation according to sacred scripture. From my experience, I believe God has many good ideas, so why not try to emulate him? Can the Lord's Day again be a day of refreshing and regrouping and even taking time to give him thanks for all the past week's blessings?
I remember learning from my catechism that if I had to do servile work on a Sunday, I had to try to limit it to a couple of hours. No wonder I went through a period of problem scrupulosity! However, the spirit of the law tells me that Sunday should be a day of holiness when we try to remove ourselves somewhat from the worldly routine to rest with our loving Lord. When was the last time we reviewed our priorities? Is there a little time on Sunday to verbally faith share with family or friends? Perhaps we could share the gist of a good homily we have heard sometime, somewhere?
Read a few Bible verses and take some precious time to think and pray about them. There are good websites to consult for prayers and Bible studies. Jot down a few thoughts of how God has come into your life in a special way. Say a short prayer about each day of the Genesis creation story, ending with renewed appreciation for all of God's handiwork. Take a short break to thank Jesus for giving us his Body and Blood as spiritual nourishment. It is easy to lapse into a routine that takes blessings for granted.
Be joyful! You might even want to break out a musical instrument and praise the Lord!
Praise the Lord with the lyre;
make melody to him with the harp of ten strings.
Sing to him a new song;
play skillfully on the strings, with loud shouts. (Psalm 33:2-3)
†††
Photo by Ben White on Unsplash
The Scripture passage is from the New Revised Standard Version Bible: Catholic Edition, copyright © 1989, 1993 the Division of Christian Education of the National Council of the Churches of Christ in the United States of America. Used by permission. All rights reserved.
Sharon Krause is a RENEW volunteer whose writing has appeared in several resources for small-group faith sharing. She is a wife, mother, and grandmother residing in Manchester, Connecticut. Over the years, she has served in many parish ministries.