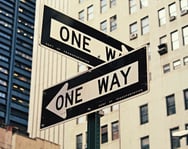 With so much instability in the world today, we have had to adjust to cope with the disruption of routines and ways of thinking. Unfortunately, we might be faced with adapting to compromises and battling temptations. I have heard that the devil is in the details, but it is just as true that the devil is in the derails—those times we get off track for one reason or another.
As I thought about the possible temptations to sin, my categorizing brain reminded me that in the 1960s and 1970s there was a very popular singing group called the Temptations. They were not something to be avoided; their music and the way they did their choreography were very entertaining. Next, I looked at some of the names of this quintet's famous recordings. So, without going into the lyrics specifically, there are song titles that seem fitting with today's not-so-desirable temptations.
One song was called Ball of Confusion (That's What the World is Today). I certainly see how that designation could apply to our poor world today. I told my husband I never thought before that I might envy the four astronauts that recently left the earth for six months away at the space station. Of course I was joking, but with so many openings and closings of schools, stores, and restaurants, it is easy to become a little cranky or short with people around us. We might be tempted to lose our patience and our temper. We might say things that are not so loving. We might indulge in a bit of self-pity. A good antidote is a few thoughts of gratitude, taken with a tall glass of water or a walk around the block.
Another song title reminds us of our pandemic plight: The Way You Do the Things You Do. Since March, we have had to change, in many instances, the way we do the things we do. I venture to say we could be tempted to change the way we are careful about our diet. We might become a little self-indulgent and not love ourselves the way we should diet-wise. Have you spoken with any friends or relatives who have put on some weight with all the staying at home and quarantining? Are we tempted to drink alcoholic beverages more than we should? And when it comes to loving God by a regularly allotted prayer time each day, are we tempted to get lazy instead of taking advantage of an extra block of time for prayer? Worse yet, are we tempted to despair and think Jesus is not with us in our trials? Take comfort in Jesus' words in Matthew 28:20b:
"And remember, I am with you always, to the end of the age."
We have to remain hopeful and not fall prey to what another song title describes as Just My Imagination (Running Away With Me.) We can pray and ask the Lord to help us to be true to our creative selves as we are made in his image and likeness. As we strive to use our time wisely to focus on helping others cope with life challenges, we might be inspired by 2 Peter 1:5-8:
For this very reason, you must make every effort
to support your faith with goodness,
and goodness with knowledge,
and knowledge with self-control,
and self-control with endurance,
and endurance with godliness,
and godliness with mutual affection,
and mutual affection with love.
For if these things are yours and are increasing among you,
they keep you from being ineffective and unfruitful
in the knowledge of our Lord Jesus Christ.
Photo credit: Brendan Church
The scripture passages are from the Revised Standard Version of the Bible: Catholic Edition, copyright © 1965, 1966 the Division of Christian Education of the National Council of the Churches of Christ in the United States of America. Used by permission. All rights reserved.
Sharon Krause is a RENEW volunteer whose writing has appeared in several resources for small-group faith sharing. She is a wife, mother, and grandmother residing in Manchester, CT. Over the years, she has served in many parish ministries.