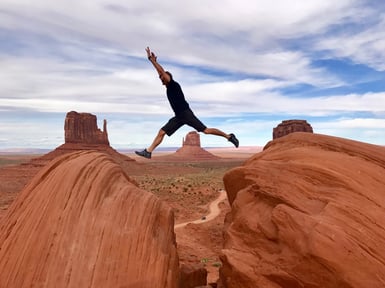 The gospel reading on fourth Sunday of Advent—St. Luke's account of Mary's visit to Elizabeth and the infant in Elizabeth's womb leaping at the sound of Mary's greeting, I have been stuck in idea of leaping. Even though 2022 is not a leap year, after all the grief and anxiety the pandemic had been causing, I believe it is time to leap with joy into the new year. Yes, I know the virus has not gone away; but just as John the Baptist leaped in acknowledgement of the presence of our Savior, we can confidently take a leap of faith in the abiding presence of our Lord of Life.
Now let's consider the nature of leaping. Leaping implies elevation as we jump up and into something. This reminds me of the responses at the beginning of the Eucharistic Prayer. The celebrant says, "The Lord be with you." We respond, "And with your spirit." Then the celebrant says, "Lift up your hearts," and we respond, "We lift them up to the Lord."
I say that is a good place for us to start fresh. Let's lift up our hearts to the Lord as we confidently leap into the new year. Also, leaping, in my mind, implies a kind of distance. A jump could be a short distance, but a leap seems to be long, encompassing more space. We may have to leap over past regrets, past fears, past failures and doubts, past disappointments and losses; but, with the help of our loving Jesus, we can go the distance.
We might feel a sense of freedom in leaping. We leave the place we are in and break out of sadness and uncertainty, especially in that first lift-off. In Isaiah 40:31 we read
but those who wait for the Lord shall renew their strength,
they shall mount up with wings like eagles,
they shall run and not be weary,
they shall walk and not faint.
With all this leaping into the new year, we should not lose sight of the new in new year. Newness implies fresh beginnings, starting over, trying again. We know we are not alone even when circumstances are challenging, worrisome, or scary. The Holy Spirit spurs us onward in surprising holy ways when we are open to his promptings.
The steadfast love of the Lord never ceases,
his mercies never come to an end;
they are new every morning;
great is your faithfulness. (Lamentations 3:22-23)
So let's not hesitate. We can leap and land on our feet. We can work on making 2022 a happy and holy year, right from the start. St. Paul encourages us in Philippians 1:6 when he writes
I am confident of this, that the one who began a good work among
you will bring it to completion by the day of Jesus Christ. (Philippians 1:6)
†††
Photo by Walter Fenton on Unsplash
Scripture passages are from the New Revised Standard Version Bible: Catholic Edition, copyright © 1989, 1993 the Division of Christian Education of the National Council of the Churches of Christ in the United States of America. Used by permission. All rights reserved.
Sharon Krause is a RENEW volunteer whose writing has appeared in several resources for small-group faith sharing. She is a wife, mother, and grandmother residing in Manchester, Connecticut. Over the years, she has served in many parish ministries.