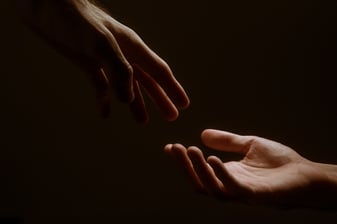 I have heard that when
Before we begin, understand that the events in the story below did not happen. I am not having visions of visitations. However, Jesus is with each of us and loves and saves us every day. This comforting reality should keep us going even in the bleakest of times!
Before the pandemic slammed all of us, I often went to the Saturday evening vigil Mass in my parish. I would usually arrive a bit early, because I am not the best car-parker in the parish, and I have my favorite spot. As is true of many parishioners, I would also sit in a favorite pew—to the left facing the sanctuary. From there, I would have a view of other folks entering the church through the door closest to the parking lot.
Well, one evening, I looked over as the door creaked open and, to my surprise, Jesus walked in. Nobody else seemed to notice him, even though he was dressed in the garb imagined in Bible stories. Was I the only one who saw him? Did others think he was a guest priest wearing an alb?
He walked right over to my pew and sat down next to me. He did not say a word to me, but started to pray silently with his folded, scarred hands gently clasped together. I wanted to yell: "Hey, everyone! Look who is here!" But I could not speak. I just sat, rapt in wonder! I stared at him in awe for what seemed like forever. Should I try to copy his fervent prayer? Should I interrupt him to ask him a question? Should I tell him I was sorry for my sins that contributed to his suffering so long ago?
I remember how, a very long time ago, I was wishing I could have one real phone call with God, during which I would actually hear his voice and get a direct, definitive answer to a dilemma I was having. And I also recalled wondering, if I had one such privilege in my lifetime, how I would know in which circumstance to take advantage of it.
But now, here was Jesus, my Savior, sitting so close to me, and I could not speak! He turned and smiled at me. I almost melted into a pew puddle! He grasped my trembling hand, and I felt a loving warmth I had never felt before. I was encouraged, forgiven, and hopeful. He brought my hand to his chest and I could feel his loving heart beating. I knew more than I had ever known how much he loved me; yet, the beat was so strong, that I also knew he loved every one of my brothers and sisters in the church, and everywhere else!
My pew Partner stood up and walked up to the sanctuary just as our pastor was entering to begin celebrating Mass. As Father John began with the Sign of the Cross, I lost sight of my special Visitor. The Mass went on as usual, with my eyes searching for Jesus. Oh, he was still there, just as he is at every Mass, but I just could not see him in the same way.
When it came time for the consecration and then the distribution of the Holy Eucharist, I felt even more united with Jesus in this great sacrifice of love. What a memorable evening that was!
O Sacrament most holy,
O Sacrament divine!
All praise and all thanksgiving
Be every moment Thine!
†††
Photo by Jackson David on Upsplash
Lyrics of "O Sacrament Most Holy" from the Raccolta. Composer unknown.
Sharon Krause is a RENEW volunteer whose writing has appeared in several resources for small-group faith sharing. She is a wife, mother, and grandmother residing in Manchester, Connecticut. Over the years, she has served in many parish ministries.