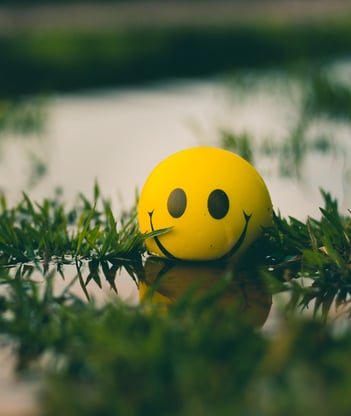 Grab your coat and get your hat
Leave your worry on the doorstep
Just direct your feet
To the sunny side of the street
These are a few of the lyrics from an uplifting song, "On the Sunny Side of the Street," that was written in 1930 by Dorothy Fields and Jimmy McHugh. The song encourages listeners to look at the bright side of life. The melody is peppy, and many famous singers of the time made the song popular.
Lately I have been thinking about the challenge of being optimistic and positive. Needless to say, there is an abundance of controversy, anxiety, and stress in our world. It is easy to find something or someone to complain about each day. It is so easy to blurt out a casual criticism of something. Smiles and encouragement can be at a premium. Where is that sunny side?
How difficult would it be to intentionally avoid negative comments and thoughts for just one full day? Such an effort could certainly affect not only us but also the people with whom we interact. Starting with morning prayer, we might ask the Holy Spirit to inspire us with simple, holy joy in the Lord. I take some dietary supplements and certain prescription meds in the morning. At the same time, I could keep in mind:
A cheerful heart is a good medicine,
but a downcast spirit dries up the bones. (Proverbs 17:22)
Taking time for grateful "buts" is helpful. For example, you could complain that there is so much laundry to do, but how blessed you are to have so many clothes and a working washing machine. Another example might be you remark that your spouse or child is not the neatest person in town, but he or she does have so many lovable characteristics. These grateful "buts" require that we slow down somewhat and
rework our thought or comment. And if we are sharing our observations with others, we are showing, by our example, that the sunny side is a better place to visit. Encouraging others to be more positive, to look for the good side of situations, can be wonderfully contagious.
Negativity is often wrapped up in emotional reactions or weary excuses. Striving to be the best person we can be, one day at a time, is a challenge. We can take comfort from Psalm 118:24:
This is the day that the Lord has made;
let us rejoice and be glad in it.
Psalm 37:3-4 can also encourage us:
Trust in the Lord, and do good;
so you will live in the land, and enjoy security.
Take delight in the Lord,
and he will give you the desires of your heart.
Pick a day. Be more aware of your comments. Grab that coat and hat and head out to sunny Positivity Street. Who knows? You might want to take up residence!
…but those who wait for the Lord shall renew their strength,
they shall mount up with wings like eagles,
they shall run and not be weary,
they shall walk and not faint. (Isaiah 40:31)
†††
Photo (detail) by Ahmed Zayan on Unsplash
"On the Sunny Side of the Street" lyrics © Shapiro Bernstein & Co. Inc., Cotton Club Publishing
Scripture passages are from the New Revised Standard Version Bible: Catholic Edition, copyright © 1989, 1993 the Division of Christian Education of the National Council of the Churches of Christ in the United States of America. Used by permission. All rights reserved.
Sharon Krause is a RENEW volunteer whose writing has appeared in several resources for small-group faith sharing. She is a wife, mother, and grandmother residing in Manchester, Connecticut. Over the years, she has served in many parish ministries.