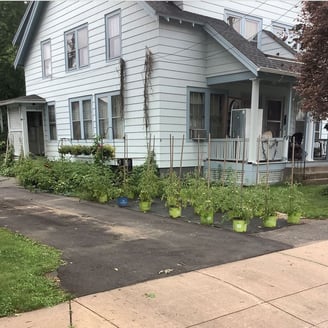 A man who lives four houses up the street from us likes to plant tomatoes. He doesn't plant them in his side yard but instead on his paved driveway in a row of 18 buckets equipped with tall stakes. When my husband and I take our neighborhood walks, we can watch the progress of this gent's bucket garden.
I do not know of another driveway bucket brigade such as my neighbor's, but I do admire this man's systematic method of procuring his summer harvest! He must be diligent about watering his plants and caring for them, as they grow, inch by inch, tomato by tomato.
As we endeavor to get back to some semblance of a normal routine as the pandemic appears to be letting up, we, like the tomato gardener, should try to be methodical. Step by step, we might ease up on our zealous sanitizing, masking, and distancing, while being forgiving of those who have made mistakes in predictions and advisories.
Lessons we have learned during the pandemic can help us in our everyday material and spiritual lives. For sure, it is a good idea to proceed daily, step by step, and not leap by leap. We know we can depend on God each day to help us. In Lamentations 3:22-23 we read:
The steadfast love of the Lord never ceases,
his mercies never come to an end;
they are new every morning,
great is your faithfulness.
As our hopes ripen for getting closer to our life goals, we have to be patient with course corrections and challenges. The devil takes advantage where there is confusion or frustrations. So we can do some weeding. We may have to pray at different times of the day than those to which we are accustomed. We may have to establish new routines about which Masses we attend. We may have to introduce more flexibility into our home or work schedules. Our ultimate goals of physical and spiritual health should be gently fertilized as we recover from a year and a half's disruption.
St. James encourages us in his letter (1:2-4):
My brothers and sisters, whenever you face trials of any kind, consider it nothing
but joy, because you know that the testing of your faith produces endurance; and
let endurance have its full effect, so that you may be mature and complete,
lacking in nothing.
We certainly can rejoice in the flowering of our resilience and ability to adapt. We continue to be presented with opportunities to share Christian generosity, both in the form of financial donations to the less fortunate among us and loving encouragement and affirmation to friends and family who are getting their personal gardens in order once again.
"You say 'to-MAY-to' and I say 'to-MAH-to,'" but however you say it or plant it, we truly are in this recovery together. We can just rely on the advice we find in Proverbs 3:5-6:
Trust in the Lord with all your heart, and do not rely on your own insight.
In all your ways acknowledge him, and he will make straight your paths.
†††
Photo by Sharon Krause.
The Scripture passages are from the New Revised Standard Version Bible: Catholic Edition, copyright © 1989, 1993 the Division of Christian Education of the National Council of the Churches of Christ in the United States of America. Used by permission. All rights reserved.
Sharon Krause is a RENEW volunteer whose writing has appeared in several resources for small-group faith sharing. She is a wife, mother, and grandmother residing in Manchester, Connecticut. Over the years, she has served in many parish ministries.