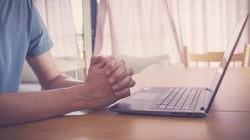 Running small groups online for the past two years has been one of my favorite parts of my job at RENEW. These groups have offered me community and friendship during difficult times, while helping me to continually grow in my faith.
One of the things that has made a big difference for my groups is always being prepared when I am facilitating. A little bit of preparation can go a long way towards having the session go well and making the most of the experience for everyone, especially with an online group. So, what does that preparation entail?
Each week, I review all the reflections and questions in the session we will use to make sure I can be comfortable reading any part of it. The varied schedules of participants mean that I may not always have enough people to cover each element in a session so that I might be called on to read. I also find the scripture reading for the week online and copy and paste it into a Word document. During the session, I put the reading up on the screen for someone to read aloud. That way, no one is hindered by a poor audio connection, and members of the group can reread the passage to themselves during the time we spend in reflection. It also means we are all reading from the same translation. If you set the document to landscape (horizontal) orientation, you can almost always get the full reading on screen at once. You can use PowerPoint or another presentation software for this as you like, whatever works for you.
I also open each Zoom session at least 15 minutes early and let people know that I will be there early. This allows everyone time to log in and get settled. It's also our socialization time. We chat and catch up during those few minutes and deepen the bonds of community formed in the group. This is also a time when I ask for volunteers to read the different parts of the session. Then, as we move from prayer, to reflection, to discussion, the flow of the session remains smooth.
If there is a video or music to be shared, I make sure that it is cued up and ready to go before the session. I also make sure that I have taken the step in Zoom of sharing my computer's sound. If I am sharing slides, I will start the share and the slide show before people arrive. If the slides are not the first thing, I will end sharing, but that allows me when I do share to go straight to the slide show, not an editing view.
An online group meeting is definitely a situation in which a little time and preparation make a big impact. Those few minutes I spend each week keeps the focus on the faith sharing, which is where it should be. As a small-group leader, this is the gift I give to myself and my group.