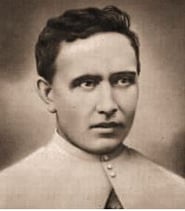 As my husband and I drive around our town running errands and shopping, we pass many residences that have signs either on their doors or windows or on posts in their front yards. The signs often consist of drawings or cutouts of hearts, and usually words of thanks to healthcare workers. The signs are not elaborate, but they are wonderful examples of recognition and appreciation for the sacrifices and hard work of those on the front line of providing medical care, especially to pandemic patients.
St. Damien de Veuster, whose memorial is celebrated today, would certainly have merited such signs if they had been in vogue in the Kalaupapa Peninsula leper colony in the mid 1800's. As a member of the Congregation of the Sacred Hearts of Jesus and Mary, Damien was sent to Hawaii in 1866 and to the leper colony at Kalaupapa in 1873. For 16 years he worked to get houses, schools and even a church constructed; he also ministered to the spiritual and medical needs of the lepers, until leprosy claimed his own life.
As we continue to try to recover from the disruptions the virus has caused in our lives, we have opportunities to exhibit signs of love. These efforts don't have to be acknowledged on house windows, doors, or signposts, but even small acts of love can be Christlike. For example, there was a news report about some teens who assisted elderly folks in getting appointments for the COVID vaccine. Other kind people have provided transportation to vaccination centers for needy or hesitant individuals. There are many volunteers who have given their time to help collect and distribute food at food pantries and food drive-throughs.
Gentle, cheerful encouragement is a sign of love for others. Some children are still being schooled at home part or full time; helpful, patient parents are surely showing signs of love in those homes.
If we are not involved in medical care, food distribution, or home schooling, we can still exhibit signs of love. How about making a special batch of cookies for a child or an adult whose routine has been disrupted? How about lining up a small group and leading a "Zoom" rosary for healthcare workers? How about mailing a gasoline gift card to someone who is a food bank volunteer? How about sending a friendly note to someone who lives alone or someone who is recovering from an illness? We could ask St. Damien to pray for strength and energy for a specific nurse or doctor we may know who is working tirelessly to help hospital patients.
As a sign of shared love of God and family, we might want to read aloud, before a family mean, the responsorial psalm (Ps. 149:1b-2,3-4,5-6a and 9b) used in today's liturgy:
Sing to the Lord a new song, his praise in the assembly of the faithful.
Let Israel be glad in its Maker; let the children of Zion rejoice in their King.
Let them praise his name with dancing, making melody to him with tambourine and lyre.
For the Lord takes pleasure in his people; he adorns the humble with victory.
Let the faithful exult in glory; let them sing for joy on their couches.
Let the high praises of God be in their throats.
This is glory for all his faithful ones. Praise the Lord!
†††
The scripture passages are from the Revised Standard Version of the Bible: Catholic Edition, copyright © 1965, 1966 the Division of Christian Education of the National Council of the Churches of Christ in the United States of America. Used by permission. All rights reserved.
Sharon Krause is a RENEW volunteer whose writing has appeared in several resources for small-group faith sharing. She is a wife, mother, and grandmother residing in Manchester, Connecticut. Over the years, she has served in many parish ministries.