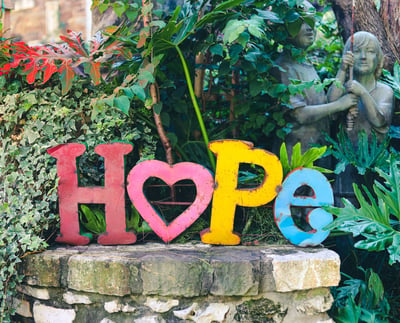 How we use words and numbers evokes different responses and understanding. Let's consider the numbers 9 and 1. If we call 9-1-1 on the telephone, we are calling for help in an emergency or accident situation. When we solemnly recall the horrific events of 9/11, we remember the terrible terrorist attacks that claimed so many innocent lives. However, there are at least 11 instances in the various books of the Bible that present hopeful messages when we check out 9:11—that is, chapter 9, verse 11. I will show you what I mean.
In Deuteronomy 9:11, we read that after 40 days and 40 nights, Moses received the stone tablets containing the Ten Commandments. Even though Moses would fling those tablets in anger at the sinning Israelites, we do see that God was seeking a covenant with his people. God gives us many second chances and wants relationship with us. That should inspire hope in all of us.
In Nehemiah 9:11, we are reminded of how God divided the Red Sea so the Israelites were able to pass and get away from the Egyptians who had enslaved them. Again, we see a reason for hopefulness.
Judith 9:11 should encourage us as we read a description of some attributes of God.
For your strength does not depend on numbers, nor your might on the
powerful. But you are the God of the lowly, helper of the oppressed,
upholder of the weak, protector of the forsaken, savior of those without hope.
Psalm 9, verse 11 says we should sing praises to God and tell of his wondrous deeds. We should definitely evangelize!
Proverbs 9:11 tells us about wisdom and bolsters us by saying that having wisdom will add to our longevity.
We read more about wisdom in the Wisdom of Solomon 9:11:
For she knows and understands all things, and she will guide me wisely in my
actions and guard me with her glory.
In the book of the prophet Amos 9:11, we read of a promise by the Lord whereby the booth of David will be raised up, repaired and rebuilt. David's kingdom will be restored! Again, a reason to be full of hope.
Of course, it is better to read whole chapters and books in the Bible, but even just Luke 9:11 tells us a lot about Jesus: He welcomed the crowds, taught them about the kingdom of God, and healed those in need of healing.
In John 9:11, we read that when a crowd questioned a man who had been healed by Jesus, the man answered,
"The man called Jesus made mud, spread it on my eyes, and
said to me, 'Go to Siloam and wash.' Then I went and washed and received
my sight."
With a promise of reward from God, St. Paul encourages disciples to be generous in 2 Corinthians 9:11:
You will be enriched in every way for your great generosity, which will produce
thanksgiving to God through us.
It sounds like we can't lose!
Hebrews 9:11 reminds us that Jesus came "as a high priest of the good things that have come…" We should be grateful for such sacrificial love of Christ on our behalf!
While there are so many natural and man-made disasters on this earth, let us continue to pray for help and strength from our loving God.
†††
Photo by Carl Hunley on Unsplash
Scripture passages are from the New Revised Standard Version Bible: Catholic Edition, copyright © 1989, 1993 the Division of Christian Education of the National Council of the Churches of Christ in the United States of America. Used by permission. All rights reserved.
Sharon Krause is a RENEW volunteer whose writing has appeared in several resources for small-group faith sharing. She is a wife, mother, and grandmother residing in Manchester, Connecticut. Over the years, she has served in many parish ministries.