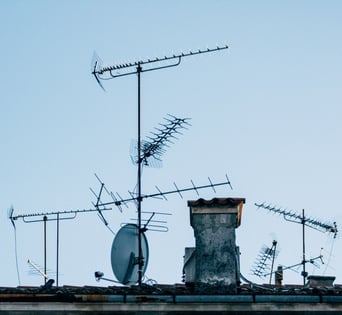 I still remember the phone call. My husband and I had just moved into our first apartment together, and I had the landlord on the phone. That was before cable TV, so people were dependent upon roof antennae and rabbit ears for their television reception. I was complaining to the landlord that every time trucks or heavy traffic passed by our abode the television picture would go kaflooey. The landlord said I should go out and buy a big box of nails and throw the nails onto the road surface outside the apartment. Of course, I did not follow his tongue-in-cheek suggestion.
I got to thinking about what can cause interference and poor reception in our spiritual life. Just as antennae reach upward, it is important for us to seek out God's voice, to extend ourselves beyond ourselves, to reach out for the connection. A verse in the book of Lamentations encourages us:
The Lord is good to those who wait for him, to the soul that seeks him…. (3:25)
And the book of Deuteronomy says,
From there you will seek the Lord your God, and you will find him if you search after him with all your heart and soul. (4:29)
We also have a promise in the book of Proverbs:
I love those who love me, and those who seek me diligently find me. (8:17)
We can conclude that we have to be willing and active seekers of the Lord. So laziness or distractions can certainly slow down or inhibit our reception of God's communication with us.
To go back to the television analogy, I find myself tuning into the "worry channel" too often and spending my time imagining undesirable scenarios instead of using that time to pray to God for help and strength. Sometimes a vivid imagination can change from gift to danger. How much better to pray that God's will be done and to receive his love and comfort!
A lack of patience can interfere with good spiritual reception as well. As I have noted many times, this fast-paced world we live in encourages an "I-want-it-now" mentality. God does not work on our schedule all the time. We have to believe that he is the Master of Time, that he knows the final results of everything way before we do.
Sometimes we have to humbly surrender our own agendas and take time to quietly tune in to God's station. Turning to sacred scripture, praying a rosary and asking our heavenly Mother's help, and, perhaps, trying contemplative prayer are ways of opening ourselves up to receiving ideas the Lord may want to put into our minds or hearts. True contrition for our sins, even the small ones, can help to clear the air as well.
Luke's Gospel comforts us with Jesus' own words:
"So I say to you, Ask, and it will be given to you; search, and you will find; knock, and the door will be opened for you. For everyone who asks receives, and everyone who searches finds, and for everyone who knocks, the door will be opened." (11:9-10)
†††
Photo: Michal Matlon on Unsplash
The Scripture passages are from the New Revised Standard Version Bible: Catholic Edition, copyright © 1989, 1993 the Division of Christian Education of the National Council of the Churches of Christ in the United States of America. Used by permission. All rights reserved.
Sharon Krause is a RENEW volunteer whose writing has appeared in several resources for small-group faith sharing. She is a wife, mother, and grandmother residing in Manchester, Connecticut. Over the years, she has served in many parish ministries.