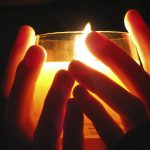 Father, I come before you
with a desire to grow in love.
Through your Son Jesus, send your Holy Spirit
to enlighten my mind and open my heart,
to grant me wisdom, hope, and peace.
May the Holy Spirit help me grow
in gifts of discernment, knowledge, and compassion
so that I may serve you more completely.
May this same Spirit help me be present to others,
responding to the Good News of your Son.
May my actions reflect his gospel of love,
today and always.
Amen.

Adapted from The People's Prayer Book, © RENEW International.