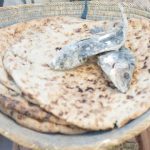 Jesus, Lord and Provider,
we have so much to be thankful for,
so much to live on and make us comfortable.
Thank you for calling us to discomfort,
to a more generous giving of
our time, talent, and treasure.
Thank you for leading us to your reign
through the eye of the needle.
Amen.

Image courtesy of www.LumoProject.com and is found at www.freebibleimages.org.

Adapted from PrayerTime, Cycle A: Faith-Sharing Reflections on the Sunday Gospels © RENEW International.