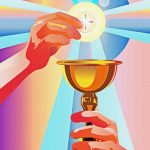 Jesus, through the gift of the Eucharist,
you have promised to share with us
your own life in the Father.
This mystery is deep,
help us to understand and believe in you.
We ask this through you, our Bread of Life. Amen.
Amen.

Adapted from The Word on Campus © RENEW International.