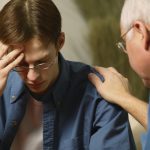 Dear God,
I praise and thank you
for Jesus who is your Word, your revelation.
Please help me to open my heart,
my mind, and my life
to your truth and your way.
Help me to accept my own burdens
and to be willing to work
toward easing the burdens of others.
I believe my life will be easy
and my burdens light
if I am joined to your Son
who is gentle and humble of heart.
Thank you for this great Incarnation of your love.
In Jesus' name I pray.
Amen.

Adapted from The People's Prayer Book, © RENEW International.