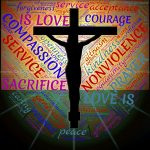 Lord, your love for us is overwhelming.
The very hairs on our head are counted,
yet we ignore the needs of others.
You have guided us toward goodness and life
despite our unfaithfulness.
The power of the world often is the voice
to which we turn.
We are a fearful people, often lacking in faith
and trust in you.
Lord, give us the courage
to speak and act in your name.
You are our loving Father.
We rejoice in your compassionate concern for us.
Help us to show compassion to the people in our world.
With the help of your Holy Spirit,
we will be your witnesses.
We pray in Jesus' name.
Amen.

Adapted from PrayerTime, Cycle A: Faith-Sharing Reflections on the Sunday Gospels © RENEW International.