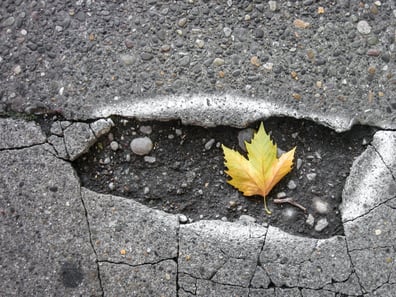 It is not necessary to wait until March for a little Irish humor!
A leprechaun here on vacation
was suddenly filled with elation
for the potholes he spied were so deep and wide
he could hide from the whole population.
The other day, as my husband was carefully maneuvering our car around the numerous New England potholes, he reminded me of that limerick I had written years ago. Especially this time of year, those road-surface erosions can challenge even the best drivers.
All of us can also experience potholes in our spiritual lives, too. What had seemed like smooth routines in our prayer life and holy habits can sink into occasional ruts, holes, and even roadblocks. What causes these interruptions? Seasonal distractions, illness or threats of illness, weariness, disappointments, and the evil one seizing opportunities can all be to blame.
So, what can we do to get back to some semblance of control? We might try something new. Find some new prayers online or try using different prayer books or novenas. Ask some friends in faith for resource ideas. Maybe a priest, deacon, or religious sister would have a recommendation.
Try establishing a new routine. Pray at a different time of day if you can. While having a familiar time and place to pray can make prayer comfortable and easy, sometimes a new experience gives fresh life and perspective to what we want to achieve.
Be creative. God gave us an imagination. If you journal, buy a new journal and a new pen. Start fresh. If you have gotten out of the habit of journaling, try again. Occasionally brief phrases instead of long sentences will suffice. Be open to the Holy Spirit's promptings. Read the same Bible passage at different times of the day and see if you find different ideas or take-aways. Listen to and, perhaps, sing a few Christian songs.
Don't waste time with self-criticism for these spiritual potholes. Move on. God is faithful, so we will try to be faithful. Fill in those holes with a day of reflection, a weekend retreat, a trip down memory lane to recall special days of blessing. Make a mental or written list of the things that have recently gone smoothly for you or for someone you love. We can always ask our mother Mary to pray for us. She knows travel is not always easy.
Stay alert. Be positive and hopeful. Be encouraged by the benediction we read in Jude 1:24:
Now to him who is able to keep you from falling, and to make you stand without
blemish in the presence of his glory with rejoicing, to the only God our Savior,
through Jesus Christ our Lord, be glory, majesty, power, and authority, before
all time and now and forever. Amen.
†††
Photo by Ian Taylor on Unsplash
Scripture passages are from the New Revised Standard Version Bible: Catholic Edition, copyright © 1989, 1993 the Division of Christian Education of the National Council of the Churches of Christ in the United States of America. Used by permission. All rights reserved.
Sharon Krause is a RENEW volunteer whose writing has appeared in several resources for small-group faith sharing. She is a wife, mother, and grandmother residing in Manchester, Connecticut. Over the years, she has served in many parish ministries.