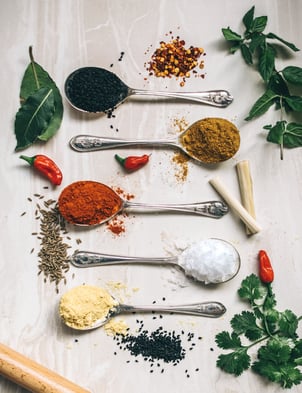 As people age, they may be increasingly aware of which foods are good for them to eat and which ones they should avoid. Some of us take daily medications as well as dietary supplement pills in an effort to maintain health and fitness. Certain herbs and spices help to make our recipes taste good and have healthful properties as well. Sometimes I wonder why I don't jingle or rattle when I walk as I consider the number of supplements and meds I take every day.
On his website (https://draxe.com), Dr. Josh Axe once discussed healing and nourishing herbs mentioned in the Bible. Among others, anise, bitter herbs, cinnamon, cumin, and garlic were used in biblical days for flavoring and because of their medicinal effectiveness.
Imagine that there were supplements we could take that would positively affect our attitudes and responses to others so that we would be more in line with what Jesus would do. What if we could buy the milk of human kindness in the grocery store and drink it to make us kinder? What if Bit O' Honey candies or sweet peas could cause us to be sweeter? What if eating cucumbers could actually keep us "cool as a cucumber" and control a quick temper while making us more patient? Maybe the bakery department of the grocery store could supply humble pie which, when eaten, would make us less self-absorbed and more solicitous of others.
Some of us have to be careful how much salt we eat, but in a different context Jesus tells us that we are the salt of the earth. He encourages us to be the life-preserving seasoning in the world, the good influence that upholds and promotes life while we give glory to God.
You are the salt of the earth; but if salt has lost its taste, how can its saltiness be
restored? It is no longer good for anything, but is thrown out and trampled under
foot. (Matthew 5:13)
We have to keep our minds and hearts well fed through daily prayer and scripture reading. Our spiritual lives have to be maintained along with our physical health. It may be tempting to become lazy couch potatoes. However, we should ask the Holy Spirit to inspire us, to bolster our creativity, so that we can lovingly, in challenging situations, turn ordinary lemons into lemonade.
In a nutshell, we remember that we are commanded to bear good fruit for the good of God's kingdom. In John 15:5 we read Jesus' words:
I am the vine, you are the branches. Those who abide in me and I in them
bear much fruit, because apart from me you can do nothing.
In these times when there are so many threats to our health, our local and world peace, and our relationships with others, may we take the time to "fill up" on God and pray that his will be done in all situations.
†††
Photo by Calum Lewis on Unsplash
Scripture passages are from the New Revised Standard Version Bible: Catholic Edition, copyright © 1989, 1993 the Division of Christian Education of the National Council of the Churches of Christ in the United States of America. Used by permission. All rights reserved.
Sharon Krause is a RENEW volunteer whose writing has appeared in several resources for small-group faith sharing. She is a wife, mother, and grandmother residing in Manchester, Connecticut. Over the years, she has served in many parish ministries.