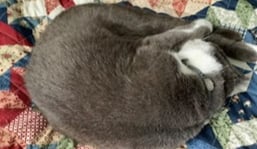 His name is Buddy. He is my cat.
We keep Buddy indoors at night because of the threat posed by a fisher cat in the neighborhood. Buddy is cooperative most of the time, but he has a propensity for exploration in the wee hours of the night. My brother-in-law used to say cats are nocturnal; I think Buddy occasionally has insomnia. Whatever the reason, once in a while I will be awakened by the sound of Buddy trying to push open the metal bathtub shower door—-although I know he is not interested in taking a shower. However, Buddy's true passion seems to be getting into the hall closet.
Let me tell you about that hall closet. It is about the size of a phone booth. My house is over 100 years old and has few and very small closets. I have lived in this house for more than 40 years and have done what I can to use closet space efficiently. That closet is packed with numerous hanging garments, extra throw pillows, a bag of seasonal gift wrap, two empty suitcases, hats, and craft supplies. There is hardly room for dust, never mind a 10-pound nosey cat! When I hear Buddy scratching at the door and can tell he has Houdinied himself from the hall into the closet, I get up, turn on the light, open the closet door all the way, and Buddy—who really could never find a comfortable flat space amid the contents—comes scrambling out to innocently find a chair or bed to catch some early-morning z's. By the time the nonsense is over, I might be fully awake.
There are other times, even without Buddy's assistance, when I experience overnight periods of wakefulness. I have noticed that my mind may head to what I call my "worry closet," although I don't know why.
I suppose I am not the only person who has trouble sleeping sometimes and can be troubled by anxieties, fears, regrets, or unpleasant memories. In the darkness and quiet of night, it is not so difficult to rehash those negative thoughts that can be temporarily overridden by distractions and activities while we are awake.
Good news! The Holy Spirit does not sleep! The Lord is with all of us and is never too tired to love us. We can get out of that worry closet or, better still, rearrange it with divine assistance and merciful hope.
I visit my worry closet; I rest in the dark for a while,
I just listen in the quiet; I seek out my Savior's smile.
I hang up all my hang-ups; I toss away my frustrations.
I stow my woes on the bottom shelf, and seek God in conversation.
I sort out my anxieties, and I relive only good memories.
I shove my worries into boxes, and again feel Christ close to me.
I am thankful for this closet; it can be a nighttime retreat.
I don't have to run or go far, far away.
The Holy Spirit comes, and we meet.
As I start to get sleepy again, I can calmly pray a "Night Song":
Sing me a lullaby, Jesus,
Kiss me good night on my face.
Fondle my fears 'til they fizzle.
Rock-a-bye me in your embrace.
Be the Lord of my dreaming.
Turn all my heartbeats to prayers.
My sins of this day forgive now.
Help me surrender my cares.
Tuck me into your heart, Lord.
Turn on your holy night light.
Watch over the people so dear to me,
As you chant the love song of night. Amen.
Sharon Krause is a RENEW volunteer whose writing has appeared in several resources for small-group faith sharing. She is a wife, mother, and grandmother residing in Manchester, CT. Over the years, she has served in many parish ministries.