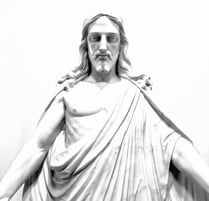 In the last chapters of the gospels of Matthew, Mark, and Luke, and in the first chapter of the Acts of the Apostles, we read of the last interactions of Jesus with his apostles. We see apostles doubting, being admonished for doubting, worshipping, being commissioned, and being given hopeful promises for the future.
In the midst of coping with their fear of some of their fellow Jews, the 11 apostles had to deal with believing accounts of appearances of the risen Jesus and questioning the meaning of the scriptures and their own faith. When Jesus did appear to them despite the locked doors, they must have been a bit rattled. Grief or relief? Doubt or belief?
Just think about it. The apostles' beloved friend, teacher, and healer was crucified like a criminal, and then, three days later, was raised from the dead by God the Father, and began appearing to them and others. That was a lot to take in! When they saw Jesus, they worshipped him. Jesus opened their minds to understanding the scriptures. He was always teaching them by challenging them, by his example and by parables. These common fishermen, and even a tax collector, were now being challenged to completely change careers; they were to make disciples everywhere as they taught about Jesus' commands and the Kingdom of a loving God.
According to Mark's account, Jesus promised amazing things to the apostles. They did not have to worry about demons, snakes, deadly drink, or language barriers. They would be able to lay hands and heal the sick in Jesus' name. And Jesus promised he would always be with them. Always!
Now, what about that power they were to expect from on high? That Holy Spirit, that Advocate who, Jesus promised, would fall upon the disciples, would be coming after Jesus had physically left them. Did they have any idea of the great power and grace the Holy Spirit would bring to them? Do we really have any idea of the great power the Holy Spirit will give to them, and to us? When we think about it, I am sure we can recall the Spirit's presence and inspirations in our own lives already! Credit where credit is due!
The disciples went to Galilee as Mary Magdalene and the other Mary had told them to do. They saw Jesus and fell down in worship. After making his promises to them, he was going to leave them! However, that wouldn't be the end! Two men in white robes appeared and told them Jesus would come back some day just as he left them to go into heaven. What a day! The apostles had no idea when they woke up that morning that they would witness the Lord's ascension! Jesus had gone to sit at the right hand of the Father and would empower them, and us, through the Holy Spirit, to do marvelous deeds, to bring others to hope and joy with the good news of Jesus' redemption of all who believe!
I have heard the story of the Lord's Ascension many times, but when I take my time and compare the different writers' accounts, I see that there is so much going on in just a few chapters! And we can anticipate what we know was coming very soon, the feast of Pentecost, the coming of the Holy Spirit! Praise the Lord who has the best plans ever! Alleluia!
†††
Sharon Krause is a RENEW volunteer whose writing has appeared in several resources for small-group faith sharing. She is a wife, mother, and grandmother residing in Manchester, Connecticut. Over the years, she has served in many parish ministries.