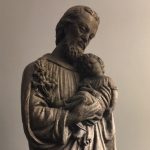 I believe that while I was on a Lenten weekend retreat, the Lord showed me my own personal parable. With no apparent provocation, I was reminded how, many years ago, when I was a little child, I was sitting on my front porch steps waiting for my daddy to come into view as he walked home from his job as a bookkeeper at the New York, Ontario & Western Railway Company a few blocks away. At last, I spotted him, and I got up and started running towards him. But I tripped and fell flat on my face on the concrete sidewalk, which was in a sorry, crumbly state. My dad rushed to my side, picked me up, and carried me the short distance to our house. I had a skinned knee and little pebbles on my face and some in my crying mouth. Once we were in the house, my mother came to my aid and cleaned up her pride and joy.

I wondered why that incident from decades ago came to mind during my quest to get closer to God. Almost immediately, I sensed that the Lord was reminding me of something I had been taught throughout my search: that in my waiting and watching for God, I might stumble and fall, sometimes experience life crumbling beneath me, but my loving Father is watching and will pick me up and carry me. Blessed Mother, Mary, is also there to help me with her loving prayers. Wow! This was, indeed, my own personal parable!

My dad died when I was 11. It was good to think of him again and remember his scooping me up in his arms. It was also reassuring to be reminded of my loving Heavenly Father who is always in control and of Mary who is praying for me.

St. Joseph, whose solemnity we celebrate today, is another father who loved his child. No doubt, he was a man of strong faith; he is called a "righteous man" in today's gospel (Matthew 1:19). Joseph must have been a strong and protective influence in the young life of Jesus. And in a passage in the Gospel of Luke (Luke 2:41-51a), which is an optional reading for this solemnity, we read of the "great anxiety" he shared with Mary as they searched for Jesus who, at age 12, was teaching in the Temple.

A protective foster father, Joseph kept his child safe by fleeing to Egypt with his family when Herod threatened Jesus' life. Joseph's strong faith and loving availability are attributes every parent should strive to possess.

St. Joseph was a craftsman, perhaps a carpenter. Let us pray, asking him to help us build a holy and fruitful last two weeks of Lent:

St. Joseph, guardian and protector of our Savior, Jesus,
pray for me, that I may measure my life
by your example of faith and willingness
to do the will of our God, our Father.
Help me to hammer out all the temptations
the evil one suggests in his deceitful plan,
and help me to build a holy life
on a firm foundation of love. Amen.