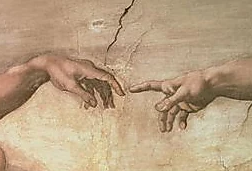 I was in the cafeteria; I was studying for my last exam of my last year at Mt. St. Mary College in Newburgh, New York. A dorm friend walked in with a former neighbor and friend who had given her a ride from home to the college on his way back to his apartment and work in Connecticut. He had been visiting his folks in the Pennsylvania-New York area. My friend and the young man sat down at my table to have some coffee and a snack. We chatted for a while.
A couple of weeks after I graduated from college, I received a phone call from that same young man. To my surprise, he had stopped by the college and found out my address. Ultimately, we dated and, after a year, got married!
Fifty years later, I have to say God must have had a hand in our meeting. The chance of meeting Duane after I graduated was practically non-existent. My home was in New York state, and he lived and worked in Connecticut. Our paths would never have crossed! I was meant to meet him that day. I say it was a divine set-up.
Years passed. Our daughter was doing well in high school. My part time job allowed me the time to start attending a few daily Masses in my parish. I started to feel closer to the Lord. I went to Mass more often. After a while, to my surprise, the pastor approached me with an invitation to become a minister of the eucharist. What a blessing! Did God help me to prepare for this? I think so! The privilege to distribute the Holy Eucharist at Masses and bring the precious Body of Christ to shut-ins was a great blessing! With God's help, I was able to minister for about 13 years!
More recently, during the pandemic, I resurrected a craft I had worked on many years ago, just to keep me creatively busy as I stayed home more. I make decorative ornaments from recycled greeting cards. One day, I saw a neighbor walking his dog, and something moved me to offer him a couple of my ornaments to give to his wife. He said it was a timely offer; his wife had just gotten some not-so-good news from her doctor. A week later, his wife—whose name I don't even know—was atypically walking the dog with her husband. I was outside, just coming back from an errand. She stopped to tell me how much my little gift had meant to her. She said it was the perfect time for a little pick-me-up surprise gift to brighten her day. God is definitely the Master of good timing!
I am sure we all have numerous examples of God's help in our ordinary lives. Do we think about it? Do we far enough back to realize how much God has perfect timing? I know I get impatient. We just have to remember that God sees our whole picture. He loves us and knows what outcomes will happen. In big and small issues, God is there.
But do not ignore this one fact, beloved, that with the Lord one day is like a
thousand years, and a thousand years are like one day. (2 Peter 3:8)
God knows best and helps us to be our best and follow his ways. We read in Isaiah 55:8-9,
For my thoughts are not your thoughts,
nor are your ways my ways, says the Lord.
For as the heavens are higher than the earth,
so are my ways higher than your ways
and my thoughts than your thoughts.
†††
Painting: Michelangelo Buonarroti, Creation of Adam (detail), Sistine Chapel, Rome.
Scripture passages are from the New Revised Standard Version Bible: Catholic Edition, copyright © 1989, 1993 the Division of Christian Education of the National Council of the Churches of Christ in the United States of America. Used by permission. All rights reserved.
Sharon Krause is a RENEW volunteer whose writing has appeared in several resources for small-group faith sharing. She is a wife, mother, and grandmother residing in Manchester, Connecticut. Over the years, she has served in many parish ministries.