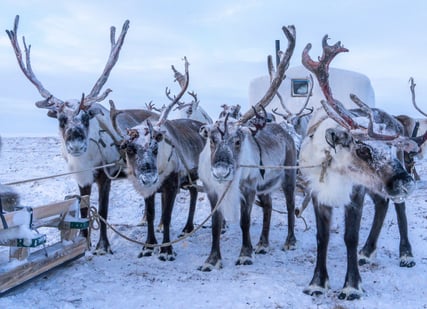 When you listen to the news, there is a good chance you will hear that retailers are urging consumers to start their Christmas shopping now because of expected shortages of products due to backups at shipping docks and the shortage of truck drivers. Couple with all of that our gradual and anxious recovery from the virus pandemic, and we are faced with a good amount of pressure, uncertainty, and stress.
I have noticed stores rushing to display Christmas merchandise and decorations even before Halloween. Right there among the skeletons and bats it was possible to see displays featuring Santa and his sleigh waiting to be purchased by COVID-weary customers.
Clement Moore's "'Twas the Night Before Christmas" gives Santa's reindeer names: Dasher, Dancer, Prancer, Vixen, Comet, Cupid, Donner, and Blitzen. To keep our focus on good spirituality while making necessary Christmas preparations for the next five and a half weeks or so, perhaps it may be a good idea to summon our own personal teams of spiritual reindeer to pull us along. Allow me to introduce you to my team.
The lead deer are called Grace and Joy. Grace reminds me gently that the Lord shares his life with me. God is generous and loving as he gives me strength every day. He is a personal, ever-present God. Joy pushes through any dark or challenging times as she tells me repeatedly that eternal joy is offered to me, that Jesus willingly paid the price for me.
The next two deer are named Sanctus and Serenity. Sanctus helps me to separate myself somewhat from worldly concerns so that I take time to strive to be holy as God is holy. As the holiday season ramps up, it is easy to get immersed in material concerns. Serenity encourages me to be sure I get enough peaceful rest so I can cope with the momentum of everyday challenges.
Deer numbers five and six are called Patience and Humor. Patience helps keep my blood pressure under control as I remember my priorities. She also helps to keep my relationships with others intact by urging me to be careful and charitable in my comments and reactions. Humor lightens the holiday festivity load. She prods me to see the lighter sides of situations, to adjust my perspective.
Prayerfulness and Generosity, "Amen" and "Gennie" for short, bring up the back of the team. Prayers can be said formally and informally; they can be long and short, said publicly or privately throughout the day. Prayer is talking to God. Maintaining a conversational relationship with God the Father, God the Son, and God the Holy Spirit keeps us close to the source of truth and inspiration. Above all, "Amen" frequently suggests prayers of gratitude and so many reasons to be grateful to God.
"Gennie" opens my heart not only to be generous with those people on my Christmas list, but with the poor whom I don't know personally. She also reminds me to open my heart to pray the prayers I have promised for those people who have known loss and heartache, especially during the pandemic.
That is my team! I am getting them harnessed up and ready so we can purposely dash away, dash away, dash away all! Ho! Ho! Ho!
†††
Photo by Hans-Juvgen Mager on Unsplash
Scripture passages are from the New Revised Standard Version Bible: Catholic Edition, copyright © 1989, 1993 the Division of Christian Education of the National Council of the Churches of Christ in the United States of America. Used by permission. All rights reserved.
Sharon Krause is a RENEW volunteer whose writing has appeared in several resources for small-group faith sharing. She is a wife, mother, and grandmother residing in Manchester, Connecticut. Over the years, she has served in many parish ministries.