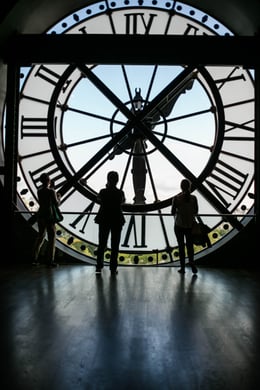 So much has been written and sung about time. We spend time, check time, do time, make use of time, run out of time, take meds a number of times a day, and are at the mercy of time. But I have a few suggestions about another time—prayer time.
We have a charismatic prayer group at my parish. I suggested one week that we break down into teams of four or five and become "Take 10 Teams." Each team would pick one of the prayer intentions from a list I would provide, and each member would take 10 minutes a day to pray for that specific intention during the upcoming week. Instead of just praying for world peace, for example, a Take Ten Team would pray for the people of North Korea—for their freedom and human rights. Another team might pray for peace for the people of Iran. And another team might pray a for poor children in the United States.
With Lent approaching, might make decisions about how we spend our time. Let's say we are up and about for 12 hours a day. We might have a job outside the home. We might be working from home. We might have children at home. I suggest that prayer can be worked into those 12 hours in creative ways.
Instead of 12 days of Christmas, I suggest the 12 hours of the day for some sort of prayer, apart from regular prayer-time habits we may have. In the first hour of praying, we could briefly offer ourselves to our Father, God, our one true King, the One who is really in control.
In the second waking hour, we might offer a short prayer of thanksgiving to the Second Person of the Trinity, Jesus. No matter how busy we are, Jesus listens to what is in our hearts. He hears even a short silent prayer.
In the third hour, we might pray for inspiration and motivation from the Holy Spirit, the third Person in the Holy Trinity. The prayer can be intentional but not necessarily long.
In the fourth hour, we might pray for blessings on four, or more, special people in our lives. Ejaculations, or short little prayers, don't even have to be written. We must know four people who each have a special need on a certain day. So many times we make a mental note to pray for someone. Here would be the chance to intentionally do that.
The prayers in the fifth, sixth, and seventh hours' could start with five, six, and seven titles we can use to praise the Lord. We could jot down the titles and consult them as we take our brief prayer breaks. Litany prayers we can find in prayer books can help us with titles or the Lord.
The eighth, ninth, and tenth hours' prayers might be in the afternoon. Reminiscent of Christ's suffering and dying in the cross in the afternoon, we might pray short prayers of sorrow and repentance for our sins with renewed resolve to press on and be more loving—especially in the afternoons when we might start to become tired and less patient. If we have a schedule jotted down for this hour-by-hour plan, we could get used to just glancing at each hour's suggestion.
The eleventh-hour prayer could be a list of eleven things we are grateful for from that day—such as that tasty lunch or the good news about a child's good school grade, or the on-time delivery of a package from Amazon.
Hour twelfth-hour prayer could be free-style to fit the particular day. Jesus had 12 apostles; we might have 12 conveniences throughout the day that helped us and that we took for granted.
Each of us can customize our prayer plan to suit our needs. We can start with a shorter plan or even a take-10 plan. A day punctuated with prayer is a good day!
†††
Photo: Musée D'Orsay, Paris. Erik Witsoe on Upsplash
Sharon Krause is a RENEW volunteer whose writing has appeared in several resources for small-group faith sharing. She is a wife, mother, and grandmother residing in Manchester, Connecticut. Over the years, she has served in many parish ministries.