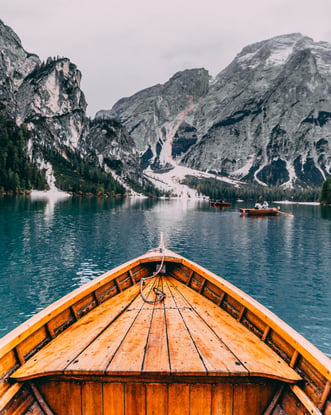 A friend of mine, Mary, was taking a course in spiritual direction many years ago. She asked me if I would let her do a practice session with me. We had had talks of a spiritual nature in the past, so I was happy to oblige.
We met and she asked me to try to visualize an encounter with Jesus. It wasn't long before I could see, in my imagination, Jesus with me. We were in a rowboat, and Jesus was smiling a wonderful smile as he rowed. Jesus certainly knows me and my love of words very well, and so I saw a connection right away: my maiden name is Rowan, so, of course, Jesus was rowin' the boat in which I was the passenger!
To this day, I remember how safe and secure I felt with Jesus in control. There were no troubles, threats, or worries in the boat, just Jesus and me. There was no real destination, but just a quiet togetherness. The whole exercise is a treasured memory, with an image I can recall when anxieties creep into my consciousness. The boat did not sink, because Jesus was rowing.
We read in the Synoptic Gospels about Jesus falling asleep while a storm tosses the boat, and his companions think they all will perish. When they wake Jesus, he calms the waters and sternly questions the apostles about the whereabouts of their faith. Jesus has control in this boating adventure.
I suggest that imagining yourself in a boat with Jesus is a good start first thing in the morning. We can start with Psalm 43:8.
Let me hear of your steadfast love in the morning,
for in you I put my trust.
If we can still imagine a rowboat ride at midday, Psalm 91:14-16 is reassuring:
Those who love me, I will deliver;
I will protect those who know my name.
When they call to me, I will answer them;
I will be with them in trouble,
I will rescue them and honor them.
With long life I will satisfy them,
and show them my salvation.
And to end the day, we can rest, relying on Jesus as we pray with Psalm 16:7-8, 11:
I bless the Lord who gives me counsel;
in the night also my heart instructs me.
I keep the Lord always before me;
because he is at my right hand, I shall not be moved.
You show me the path of life.
In your presence there is fullness of joy;
in your right hand are pleasures forevermore.
Ahoy there, mateys! Your boats are secure when you let Jesus do the rowing!
†††
Photo by Pietro de Grandi on Unsplash
Scripture passages are from the New Revised Standard Version Bible: Catholic Edition, copyright © 1989, 1993 the Division of Christian Education of the National Council of the Churches of Christ in the United States of America. Used by permission. All rights reserved.
Sharon Krause is a RENEW volunteer whose writing has appeared in several resources for small-group faith sharing. She is a wife, mother, and grandmother residing in Manchester, Connecticut. Over the years, she has served in many parish ministries.